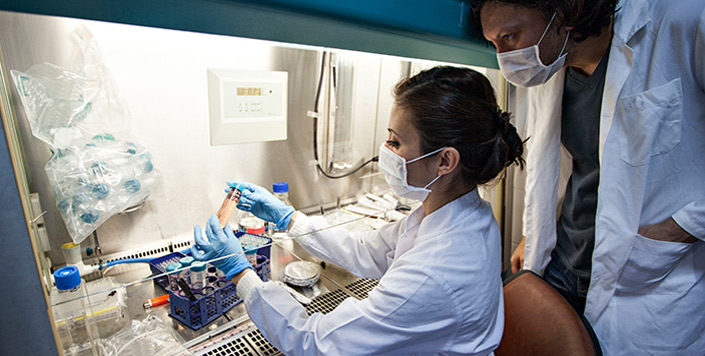 Publication Date
4-24-2023
Abstract
In cancer combination therapy, a multimodal delivery vector is used to improve the bioavailability of multiple anti-cancer hydrophobic drugs. Further, targeted delivery of therapeutics along with simultaneous monitoring of the drug release at the tumor site without normal organ toxicity is an emerging and effective strategy for cancer treatment. However, the lack of a smart nano-delivery system limits the application of this therapeutic strategy. To overcome this issue, a PEGylated dual drug, conjugated amphiphilic polymer (CPT-S-S-PEG-CUR), has been successfully synthesized by conjugating two hydrophobic fluorescent anti-cancer drugs, curcumin (CUR) and camptothecin (CPT), through an ester and a redox-sensitive disulfide (-S-S-) linkage, respectively, with a PEG chain via in situ two-step reactions. CPT-S-S-PEG-CUR is spontaneously self-assembled in the presence of tannic acid (TA, a physical crosslinker) into anionic, comparatively smaller-sized (~100 nm), stable nano-assemblies in water in comparison to only polymer due to stronger H-bond formation between polymer and TA. Further, due to the spectral overlap between CPT and CUR and a stable, smaller nano-assembly formation by the pro-drug polymer in water in presence of TA, a successful Fluorescence Resonance Energy Transfer (FRET) signal was generated between the conjugated CPT (FRET donor) and conjugated CUR (FRET acceptor). Interestingly, these stable nano-assemblies showed a preferential breakdown and release of CPT in a tumor-relevant redox environment (in the presence of 50 mM glutathione), leading to the disappearance of the FRET signal. These nano-assemblies exhibited a successful cellular uptake by the cancer cells and an enhanced antiproliferative effect in comparison to the individual drugs in cancer cells (AsPC1 and SW480). Such promising in vitro results with a novel redox-responsive, dual-drug conjugated, FRET pair-based nanosized multimodal delivery vector can be highly useful as an advanced theranostic system towards effective cancer treatment.
Recommended Citation
Laskar, P., Dhasmana, A., Kotnala, S., Jaggi, M., Yallapu, M. M., & Chauhan, S. C. (2023). Glutathione-Responsive Tannic Acid-Assisted FRET Nanomedicine for Cancer Therapy. Pharmaceutics, 15(5), 1326. https://doi.org/10.3390/pharmaceutics15051326
Creative Commons License


This work is licensed under a Creative Commons Attribution 4.0 International License.
Publication Title
Pharmaceutics
DOI
https://doi.org/10.3390/pharmaceutics15051326
Mentor/PI Department
Immunology and Microbiology