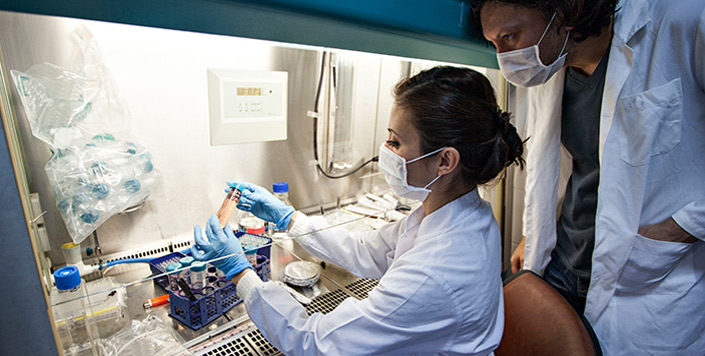 Publication Date
1-8-2020
Abstract
Tissue culture based in-vitro experimental modeling of human inherited disorders provides insight into the cellular and molecular mechanisms involved and the underlying genetic component influencing the disease phenotype. The breakthrough development of induced pluripotent stem cell (iPSC) technology represents a quantum leap in experimental modeling of human diseases, providing investigators with a self-renewing and thus unlimited source of pluripotent cells for targeted differentiation into functionally relevant disease specific tissue/cell types. The existing rich bio-resource of Epstein-Barr virus (EBV) immortalized lymphoblastoid cell line (LCL) repositories generated from a wide array of patients in genetic and epidemiological studies worldwide, many of them with extensive genotypic, genomic and phenotypic data already existing, provides a great opportunity to reprogram iPSCs from any of these LCL donors in the context of their own genetic identity for disease modeling and disease gene identification. However, due to the low reprogramming efficiency and poor success rate of LCL to iPSC reprogramming, these LCL resources remain severely underused for this purpose. Here, we detailed step-by-step instructions to perform our highly efficient LCL-to-iPSC reprogramming protocol using EBNA1/OriP episomal plasmids encoding pluripotency transcription factors (i.e., OCT3/4, SOX2, KLF4, L-MYC, and LIN28), mouse p53DD (p53 carboxy-terminal dominant-negative fragment) and commercially available reprogramming media. We achieved a consistently high reprogramming efficiency and 100% success rate (> 200 reprogrammed iPSC lines) using this protocol.
Recommended Citation
Kumar S, Curran JE, Espinosa EC, Glahn DC, Blangero J. Highly efficient induced pluripotent stem cell reprogramming of cryopreserved lymphoblastoid cell lines. J Biol Methods 2020;7(1):e124. doi: 10.14440/jbm.2020.296
Creative Commons License


This work is licensed under a Creative Commons Attribution 3.0 License.
Publication Title
Journal of Biological Methods
DOI
10.14440/jbm.2020.296
Mentor/PI Department
Molecular Science