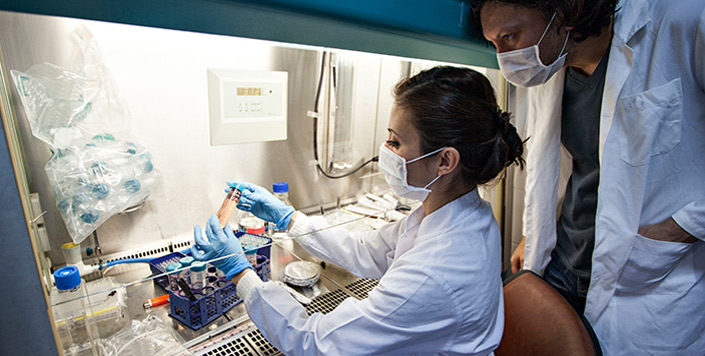 Publication Date
6-28-2018
Abstract
UVB exposure can contribute to the development of skin cancer by modulating protein tyrosine kinase (PTK) signaling. It has been suggested that UVB radiation increases the ligand-dependent activation of PTKs and induces PTP inactivation. Our recent studies have shown that T-cell protein tyrosine phosphatase (TC-PTP) attenuates skin carcinogenesis induced by chemical regimens, which indicates its critical role in the prevention of skin cancer. In the current work, we report that TC-PTP increases keratinocyte susceptibility to UVB-induced apoptosis via the downregulation of Flk-1/JNK signaling. We showed that loss of TC-PTP led to resistance to UVB-induced apoptosis in vivo epidermis. We established immortalized primary keratinocytes (IPKs) from epidermal-specific TC-PTP-deficient (K14Cre.Ptpn2fl/fl) mice. Immortalized TC-PTP-deficient keratinocytes (TC-PTP/KO IPKs) showed increased cell survival against UVB-induced apoptosis which was concomitant with a UVB-mediated increase in Flk-1 phosphorylation, especially on tyrosine residue 1173. Inhibition of Flk-1 by either its specific inhibitors or siRNA in TC-PTP/KO IPKs reversed this effect and significantly increased cell death after UVB irradiation in comparison with untreated TC-PTP/KO IPKs. Immunoprecipitation analysis using the TC-PTP substrate-trapping mutant TCPTP-D182A indicated that TC-PTP directly interacts with Flk-1 to dephosphorylate it and their interaction was stimulated by UVB. Following UVBmediated Flk-1 activation, the level of JNK phosphorylation was also significantly increased in TC-PTP/KO IPKs compared to control IPKs. Similar to our results with Flk-1, treatment of TC-PTP/KO IPKs with the JNK inhibitor SP600125 significantly increased apoptosis after UVB irradiation, confirming that the effect of TC-PTP on UVB-mediated apoptosis is regulated by Flk-1/JNK signaling. Western blot analysis showed that both phosphorylated Flk-1 and phosphorylated JNK were significantly increased in the epidermis of TC-PTP-deficient mice compared to control mice following UVB. Our results suggest that TC-PTP plays a protective role against UVB-induced keratinocyte cell damage by promoting apoptosis via negative regulation of Flk-1/JNK survival signaling.
Recommended Citation
Baek, M., Kim, M., Lim, J.S. et al. Epidermal-specific deletion of TC-PTP promotes UVB-induced epidermal cell survival through the regulation of Flk-1/JNK signaling. Cell Death Dis 9, 730 (2018). https://doi.org/10.1038/s41419-018-0781-9
Creative Commons License


This work is licensed under a Creative Commons Attribution 4.0 International License.
Publication Title
Cell Death and Disease
DOI
10.1038/s41419-018-0781-9
Mentor/PI Department
Molecular Science