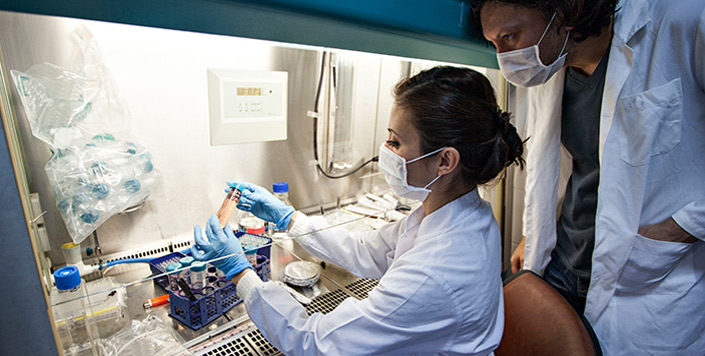 Publication Date
11-26-2021
Abstract
Besides providing an essential protective barrier, airway epithelial cells directly sense pathogens and respond defensively. This is a frontline component of the innate immune system with specificity for different pathogen classes. It occurs in the context of numerous interactions with leukocytes, but here we focus on intrinsic epithelial mechanisms. Type 1 immune responses are directed primarily at intracellular pathogens, particularly viruses. Prominent stimuli include microbial nucleic acids and interferons released from neighboring epithelial cells. Epithelial responses revolve around changes in the expression of interferon-sensitive genes (ISGs) that interfere with viral replication, as well as the further induction of interferons that signal in autocrine and paracrine manners. Type 2 immune responses are directed primarily at helminths and fungi. Prominent pathogen stimuli include proteases and chitin, and important responses include mucin hypersecretion and chitinase release. Type 3 immune responses are directed primarily at extracellular microbial pathogens, including bacteria and fungi, as well as viruses during their extracellular phase of infection. Prominent microbial stimuli include bacterial wall components, such as lipopeptides and endotoxin, as well as microbial nucleic acids. Key responses are the release of reactive oxygen species (ROS) and antimicrobial peptides (AMPs). For all three types of response, paracrine signaling to neighboring epithelial cells induces resistance to infection over a wide field. Often, the epithelial effector molecules themselves also have signaling properties, in addition to the release of inflammatory cytokines that boost local innate immunity. Together, these epithelial mechanisms provide a powerful first line of pathogen defense, recruit leukocytes, and instruct adaptive immune responses.
Recommended Citation
Johnston SL, Goldblatt DL, Evans SE, Tuvim MJ and Dickey BF (2021) Airway Epithelial Innate Immunity. Front. Physiol. 12:749077. doi: 10.3389/fphys.2021.749077
Creative Commons License


This work is licensed under a Creative Commons Attribution 4.0 International License.
Publication Title
Frontiers in Physiology
DOI
10.3389/fphys.2021.749077
Academic Level
medical student