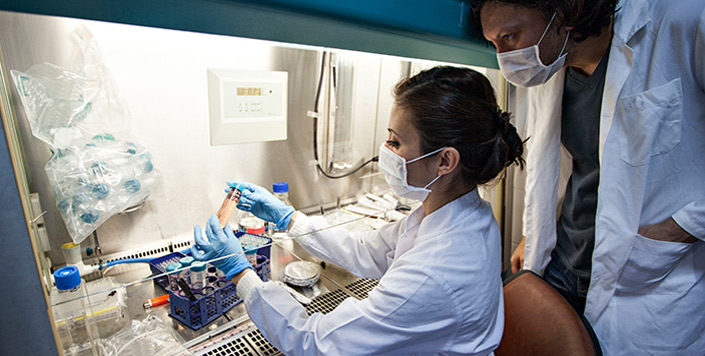 Publication Date
2-20-2018
Abstract
Background: Cancer progression and metastasis is profoundly influenced by protein kinase D1 (PKD1) and metastasis-associated protein 1 (MTA1) in addition to other pathways. However, the nature of regulatory relationship between the PKD1 and MTA1, and its resulting impact on cancer metastasis remains unknown. Here we present evidence to establish that PKD1 is an upstream regulatory kinase of MTA1.
Methods: Protein and mRNA expression of MTA1 in PKD1-overexpressing cells were determined using western blotting and reverse-transcription quantitative real-time PCR. Immunoprecipitation and proximity ligation assay (PLA) were used to determine the interaction between PKD1 and MTA1. PKD1-mediated nucleo-cytoplasmic export and polyubiquitin-dependent proteosomal degradation was determined using immunostaining. The correlation between PKD1 and MTA1 was determined using intra-tibial, subcutaneous xenograft, PTEN-knockout (PTEN-KO) and transgenic adenocarcinoma of mouse prostate (TRAMP) mouse models, as well as human cancer tissues.
Results: We found that MTA1 is a PKD1-interacting substrate, and that PKD1 phosphorylates MTA1, supports its nucleus-to-cytoplasmic redistribution and utilises its N-terminal and kinase domains to effectively inhibit the levels of MTA1 via polyubiquitin-dependent proteosomal degradation. PKD1-mediated downregulation of MTA1 was accompanied by a significant suppression of prostate cancer progression and metastasis in physiologically relevant spontaneous tumour models. Accordingly, progression of human prostate tumours to increased invasiveness was also accompanied by decreased and increased levels of PKD1 and MTA1, respectively.
Conclusions: Overall, this study, for the first time, establishes that PKD1 is an upstream regulatory kinase of MTA1 status and its associated metastatic activity, and that the PKD1-MTA1 axis could be targeted for anti-cancer strategies.
Recommended Citation
Ganju, A., Chauhan, S., Hafeez, B. et al. Protein kinase D1 regulates subcellular localisation and metastatic function of metastasis-associated protein 1. Br J Cancer 118, 587–599 (2018). https://doi.org/10.1038/bjc.2017.431
Creative Commons License


This work is licensed under a Creative Commons Attribution-NonCommercial-Share Alike 4.0 International License.
Publication Title
British Journal of Cancer
Mentor/PI Department
Immunology and Microbiology