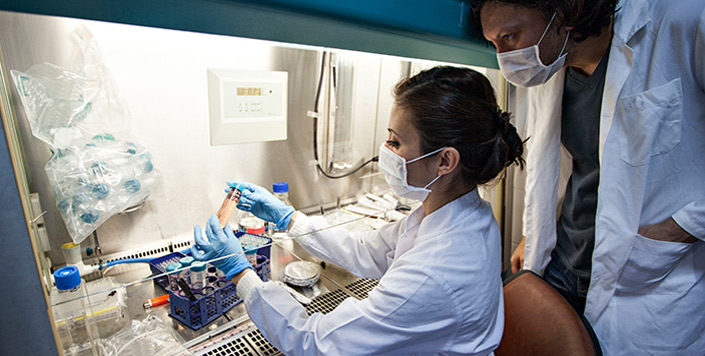 Publication Date
6-10-2022
Abstract
Tuberculosis is a leading cause of death in mankind due to infectious agents, and Mycobacterium tuberculosis (Mtb) infects and survives in macrophages (MФs). Although MФs are a major niche, myeloid-derived suppressor cells (MDSCs) are an alternative site for pathogen persistence. Both MФs and MDSCs express varying levels of leukocyte immunoglobulin-like receptor B (LILRB), which regulate the myeloid cell suppressive function. Herein, we demonstrate that antagonism of LILRB2 by a monoclonal antibody (mab) induced a switch of human MDSCs towards an M1-macrophage phenotype, increasing the killing of intracellular Mtb. Mab-mediated antagonism of LILRB2 alone and its combination with a pharmacological blockade of SHP1/2 phosphatase increased proinflammatory cytokine responses and phosphorylation of ERK1/2, p38 MAPK, and NF-kB in Mtb-infected MDSCs. LILRB2 antagonism also upregulated anti-mycobacterial iNOS gene expression and an increase in both nitric oxide and reactive oxygen species synthesis. Because genes associated with the anti-mycobacterial function of M1-MФs were enhanced in MDSCs following mab treatment, we propose that LILRB2 antagonism reprograms MDSCs from an immunosuppressive state towards a pro-inflammatory phenotype that kills Mtb. LILRB2 is therefore a novel therapeutic target for eradicating Mtb in MDSCs.
Recommended Citation
Singh VK, Khan A, Xu Y, Mai S, Zhang L, Mishra A, Restrepo BI, Pan P-Y, Chen S-H and Jagannath C (2022) Antibody-Mediated LILRB2-Receptor Antagonism Induces Human Myeloid-Derived Suppressor Cells to Kill Mycobacterium tuberculosis. Front. Immunol. 13:865503. doi: 10.3389/fimmu.2022.865503
Creative Commons License


This work is licensed under a Creative Commons Attribution 4.0 International License.
Publication Title
Frontiers in Immunology
DOI
10.3389/fimmu.2022.865503
Mentor/PI Department
Office of Human Genetics