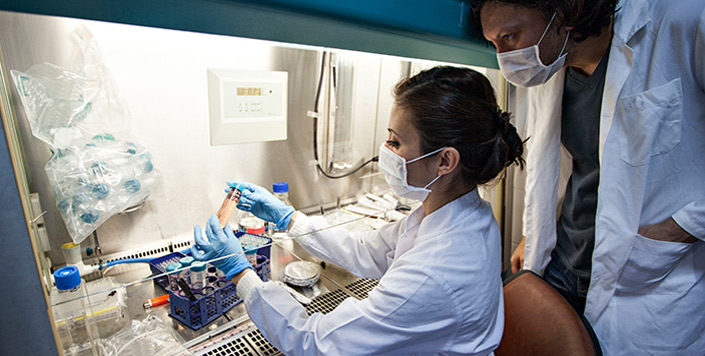 Publication Date
6-30-2016
Abstract
Progranulin (GRN) loss-of-function mutations leading to progranulin protein (PGRN) haploinsufficiency are prevalent genetic causes of frontotemporal dementia. Reports also indicated PGRN-mediated neuroprotection in models of Alzheimer's and Parkinson's disease; thus, increasing PGRN levels is a promising therapeutic for multiple disorders. To uncover novel PGRN regulators, we linked whole-genome sequence data from 920 individuals with plasma PGRN levels and identified the prosaposin (PSAP) locus as a new locus significantly associated with plasma PGRN levels. Here we show that both PSAP reduction and overexpression lead to significantly elevated extracellular PGRN levels. Intriguingly, PSAP knockdown increases PGRN monomers, whereas PSAP overexpression increases PGRN oligomers, partly through a protein–protein interaction. PSAP-induced changes in PGRN levels and oligomerization replicate in human-derived fibroblasts obtained from a GRN mutation carrier, further supporting PSAP as a potential PGRN-related therapeutic target. Future studies should focus on addressing the relevance and cellular mechanism by which PGRN oligomeric species provide neuroprotection.
Recommended Citation
Nicholson, A., Finch, N., Almeida, M. et al. Prosaposin is a regulator of progranulin levels and oligomerization. Nat Commun 7, 11992 (2016). https://doi.org/10.1038/ncomms11992
Creative Commons License


This work is licensed under a Creative Commons Attribution 4.0 International License.
Publication Title
Nat Commun
Mentor/PI Department
Office of Human Genetics