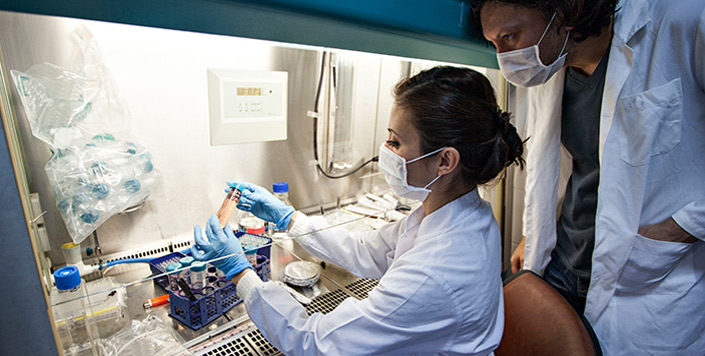 Publication Date
12-19-2017
Abstract
The HOXB13 G84E variant is associated with risk of prostate cancer (PCa), however the role this variant plays in PCa development is unknown. This study examined 751 cases, 450 relatives and 355 controls to determine the contribution of this variant to PCa risk in Tasmania and investigated HOXB13 gene and protein expression in tumours from nine G84E heterozygote variant and 13 wild-type carriers. Quantitative PCR and immunohistochemistry showed that HOXB13 gene and protein expression did not differ between tumour samples from variant and wild-type carriers. Allele-specific transcription revealed that two of seven G84E carriers transcribed both the variant and wild-type allele, while five carriers transcribed the wild-type allele. Methylation of surrounding CpG sites was lower in the variant compared to the wild-type allele, however overall methylation across the region was very low. Notably, tumour characteristics were less aggressive in the two variant carriers that transcribed the variant allele compared to the five that did not. This study has shown that HOXB13 expression does not differ between tumour tissue of G84E variant carriers and non-carriers. Intriguingly, the G84E variant allele was rarely transcribed in carriers, suggesting that HOXB13 expression may be driven by the wild-type allele in the majority of carriers.
Recommended Citation
FitzGerald, L. M., Raspin, K., Marthick, J. R., Field, M. A., Malley, R. C., Thomson, R. J., Blackburn, N. B., Banks, A., Charlesworth, J. C., Donovan, S., & Dickinson, J. L. (2017). Impact of the G84E variant on HOXB13 gene and protein expression in formalin-fixed, paraffin-embedded prostate tumours. Scientific reports, 7(1), 17778. https://doi.org/10.1038/s41598-017-18217-w
Creative Commons License


This work is licensed under a Creative Commons Attribution 4.0 International License.
Publication Title
Scientific reports
DOI
10.1038/s41598-017-18217-w
Mentor/PI Department
Office of Human Genetics