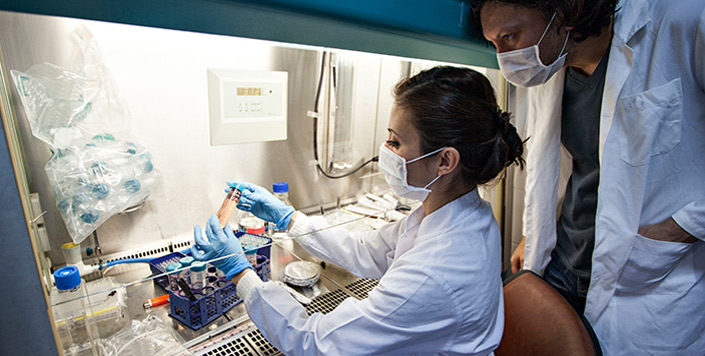 Abstract
Background: Non-human primates have been shown to be useful models for Chagas disease. We previously reported that natural T. cruzi infection of cynomolgus macaques triggers clinical features and immunophenotypic changes of peripheral blood leukocytes resembling those observed in human Chagas disease. In the present study, we further characterize the cytokine-mediated microenvironment to provide supportive evidence of the utility of cynomolgus macaques as a model for drug development for human Chagas disease.
Methods and findings: In this cross-sectional study design, flow cytometry and systems biology approaches were used to characterize the ex vivo and in vitro T. cruzi-specific functional cytokine signature of circulating leukocytes from TcI-T. cruzi naturally infected cynomolgus macaques (CH). Results showed that CH presented an overall CD4+-derived IFN-γ pattern regulated by IL-10-derived from CD4+ T-cells and B-cells, contrasting with the baseline profile observed in non-infected hosts (NI). Homologous TcI-T. cruzi-antigen recall in vitro induced a broad pro-inflammatory cytokine response in CH, mediated by TNF from innate/adaptive cells, counterbalanced by monocyte/B-cell-derived IL-10. TcIV-antigen triggered a more selective cytokine signature mediated by NK and T-cell-derived IFN-γ with modest regulation by IL-10 from T-cells. While NI presented a cytokine network comprised of small number of neighborhood connections, CH displayed a complex cross-talk amongst network elements. Noteworthy, was the ability of TcI-antigen to drive a complex global pro-inflammatory network mediated by TNF and IFN-γ from NK-cells, CD4+ and CD8+ T-cells, regulated by IL-10+CD8+ T-cells, in contrast to the TcIV-antigens that trigger a modest network, with moderate connecting edges.
Conclusions: Altogether, our findings demonstrated that CH present a pro-inflammatory/regulatory cytokine signature similar to that observed in human Chagas disease. These data bring additional insights that further validate these non-human primates as experimental models for Chagas disease.
Recommended Citation
Vitelli-Avelar, D. M., Sathler-Avelar, R., Mattoso-Barbosa, A. M., Gouin, N., Perdigão-de-Oliveira, M., Valério-Dos-Reis, L., Costa, R. P., Elói-Santos, S. M., Gomes, M. S., Amaral, L. R., Teixeira-Carvalho, A., Martins-Filho, O. A., Dick, E. J., Jr, Hubbard, G. B., VandeBerg, J. F., & VandeBerg, J. L. (2017). Cynomolgus macaques naturally infected with Trypanosoma cruzi-I exhibit an overall mixed pro-inflammatory/modulated cytokine signature characteristic of human Chagas disease. PLoS neglected tropical diseases, 11(2), e0005233. https://doi.org/10.1371/journal.pntd.0005233
Creative Commons License


This work is licensed under a Creative Commons Attribution 4.0 International License.
Publication Title
PLoS Negl Trop Dis.
DOI
10.1371/journal.pntd.0005233
Mentor/PI Department
Office of Human Genetics