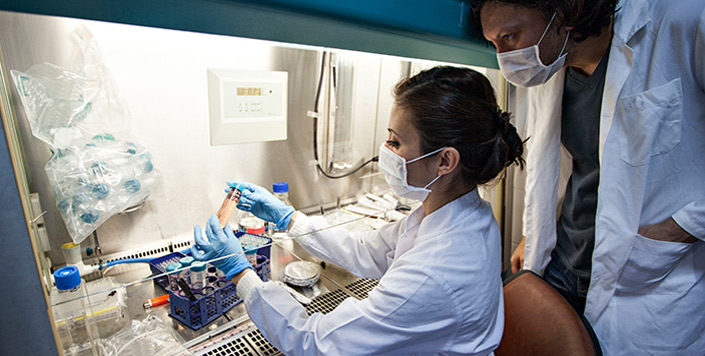 Title
Xenotransplantation of pre-pubertal ovarian cortex and prevention of follicle depletion with anti-Müllerian hormone (AMH)
Abstract
Objective: To determine whether recombinant AMH (rAMH) could prevent post-transplant follicular depletion by acting on the stemness markers Oct-4, Sox2, and NANOG.
Materials and methods: This was an experimental study where 12 ovariectomized nude mice were xenotransplanted with vitrified/warmed ovarian cortex obtained from a pre-pubertal girl and Alzet pumps delivering rAMH, or placebo (control), were inserted intra-abdominally. Previously vitrified/warmed ovarian cortex fragments were transplanted after 7 days and then harvested after 14 days from pump placement. We performed real-time RT-PCR analyses, ELISA for AMH, FSH, and estradiol, histologic measurement of ovarian follicles, and immunohistochemistry for Ki67 and TUNEL. The main outcome measures were serum levels and tissue expression of the parameters under investigation and follicle count.
Results: Serum AMH, FSH, and estradiol reflected post-ovariectomy profiles and were mildly influenced by rAMH administration. Ovarian cortex expression of AMH, AMH-R2, VEGF, GDF9, Oct-4, and Sox2 was lower in rAMH mice than in controls, while NANOG was upregulated. There was a non-significant decrease in primordial follicles after vitrification-warming, and xenotransplantation further decreased this number. There were lower cell replication and depressed apoptosis in the rAMH group.
Conclusions: Administration of recombinant AMH in the peri-transplant period did not protect the initial follicular depletion but decreased apoptosis and cellular activation and regulated stem cell markers' tissue expression. These results aid our understanding of the inhibitory effects of AMH on follicular development and show the benefit of administering exogenous AMH at the time of pre-pubertal ovarian cortex transplant to protect the follicles from pre-activation and premature depletion.
Recommended Citation
Detti, L., Fletcher, N. M., Saed, G. M., Sweatman, T. W., Uhlmann, R. A., Pappo, A., & Peregrin-Alvarez, I. (2018). Xenotransplantation of pre-pubertal ovarian cortex and prevention of follicle depletion with anti-Müllerian hormone (AMH). Journal of assisted reproduction and genetics, 35(10), 1831–1841. https://doi.org/10.1007/s10815-018-1260-z
Publication Title
Journal of assisted reproduction and genetics
DOI
10.1007/s10815-018-1260-z