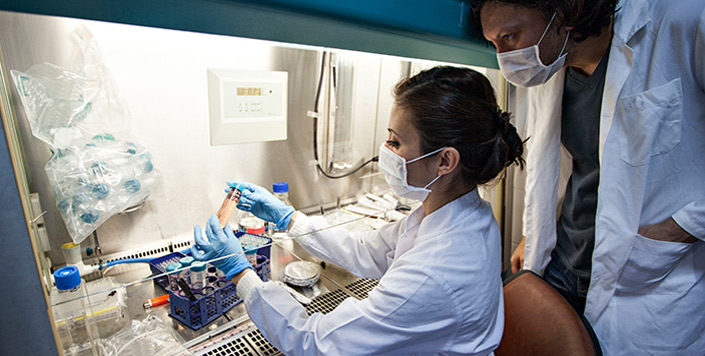 Publication Date
5-19-2020
Abstract
The tumor microenvironment (TME) is a complex network of epithelial and stromal cells, wherein stromal components provide support to tumor cells during all stages of tumorigenesis. Among these stromal cell populations are myeloid cells, which are comprised mainly of tumor-associated macrophages (TAM), dendritic cells (DC), myeloid-derived suppressor cells (MDSC), and tumor-associated neutrophils (TAN). Myeloid cells play a major role in tumor growth through nurturing cancer stem cells by providing growth factors and metabolites, increasing angiogenesis, as well as promoting immune evasion through the creation of an immune-suppressive microenvironment. Immunosuppression in the TME is achieved by preventing critical anti-tumor immune responses by natural killer and T cells within the primary tumor and in metastatic niches. Therapeutic success in targeting myeloid cells in malignancies may prove to be an effective strategy to overcome chemotherapy and immunotherapy limitations. Current therapeutic approaches to target myeloid cells in various cancers include inhibition of their recruitment, alteration of function, or functional re-education to an antitumor phenotype to overcome immunosuppression. In this review, we describe strategies to target TAMs and MDSCs, consisting of single agent therapies, nanoparticle-targeted approaches and combination therapies including chemotherapy and immunotherapy. We also summarize recent molecular targets that are specific to myeloid cell populations in the TME, while providing a critical review of the limitations of current strategies aimed at targeting a single subtype of the myeloid cell compartment. The goal of this review is to provide the reader with an understanding of the critical role of myeloid cells in the TME and current therapeutic approaches including ongoing or recently completed clinical trials.
Recommended Citation
Chaib M, Chauhan SC and Makowski L (2020) Friend or Foe? Recent Strategies to Target Myeloid Cells in Cancer. Front. Cell Dev. Biol. 8:351. doi: 10.3389/fcell.2020.00351
Creative Commons License


This work is licensed under a Creative Commons Attribution 4.0 International License.
Publication Title
Frontiers in Cell and Developmental Biology
DOI
10.3389/fcell.2020.00351
Mentor/PI Department
Immunology and Microbiology