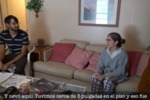 Interview with Caroline Twist
This is the interview of Caroline Twist that took place on Friday, October 28, 2011 at 12:00 pm. Caroline Twist is the oldest daughter of Kelly Norquest. This interview took place on the Norquest property at the intersection of Sugar and Chapin streets in Edinburg, Texas. The main interviewer was Geoffrey Waters with additional questions by David Garcia, Michal Hartman and Liza Soria. The interview itself took place in the living room of the center house of the three houses of the Norquest property.
Description
In this short segment, Caroline Twist talks about weather events and the University of Texas Pan American.
This paper has been withdrawn.