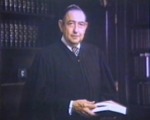 Identifier
BLIBR0075_DAA_1993_Reynaldo G, Garza.mp4
Description
Distinguished Alumnus Award recipient of 1993. Hon. Reynaldo G. Garza is a former Senior Circuit Judge, U.S. Court of Appeals, Fifth Circuit. Texas Southmost College Alumnus '35
"And I could see the proof of Junior Colleges because I graduated in 1993 from high school. My brothers had been sent to The University of Texas at Austin. But because of the depression, my poor dad just couldn't afford it. And if it hadn't been for the Brownsville Junior College, I don't know what I would've done."
A federal judge since 1961, Reynaldo G. Garza was the first Mexican-American nominated as a federal judge in the United States.
"The judge," as everyone called him, was the very first Distinguished Alumnus named at Texas Southmost College. The flags in front of Gorgas Hall on the campus of are at half-staff in his honor.
Born on July 7, 1915 to Ygnacio Garza and Zoila Guerra, his parents instilled him at an early age the value of getting an education. In a 1993 interview, Garza recalled what his father told his children on his deathbed.
After graduating from Brownsville High School in 1933, Garza began his college education at Brownsville Junior College, now UT Brownsville/Texas Southmost College.
He earned an Associate of Arts degree from Brownsville Junior College in 1935 and then continued his studies at The University of Texas in Austin. In 1939, he received a combined degree of Bachelor of Arts and Bachelor of Laws. His class was the first required to take the State Bar Exam.
In April of 1961, the late President John F. Kennedy appointed him as a federal judge for for the Southern District of Texas. In 1974, he became Chief Judge of the Southern District of Texas. Five years later, President Jimmy Carter appointed him to the U.S. Court of Appeals for the Fifth Circuit. In 1987 he was appointed Chief Judge of the U.S. Temporary Emergency Court of Appeals.
Garza assumed senior status in 1982 and although his last court sitting was in April of 2001, he continued working as a circuit judge until his death in 2004.
Physical Description
.MP4, 00:10:34, 174 MB
Recommended Citation
UTB/TSC Archives - Media (BLIBR0075), UTRGV Digital Library, The University of Texas – Rio Grande Valley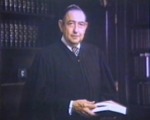 COinS