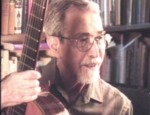 Identifier
BLIBR0075_DAA_1995_Americo Paredes.mp4
Description
Distinguished Alumnus Award recipient of 1995. Americo Paredes is a former Professor Emeritus at The University of Texas at Austin. Texas Southmost College Alumnus '36
"If I didn't have those two years in junior college… I wouldn't have had the guts to come back after the war at age 35 and start as an undergraduate at The University of Texas at Austin…I did very well and I got what I wanted out of life—an education."
Dr. Americo Paredes served as a role model, outspoken advocate for social justice and an inspiration for Hispanics of every generation.
Paredes was an internationally acclaimed scholar, folklorist and songwriter and is credited with creating the academic area of "Border Studies" at The University of Texas at Austin.
Born in Brownsville on September 3, 1915, Paredes began his education on the border, where a mixture of beauty and tradition came together to inspire a distinguished life of scholarship and art.
He credits his academic success to a former dean at the old Brownsville Junior College (later renamed Texas Southmost College) who helped him obtain the financial assistance necessary to launch his college career. Paredes eventually found work as a writer at The Brownsville Herald earning less than $12 a week. Still, he knew his future lay elsewhere and he knew he would need more education to find it.
Once he had obtained his undergraduate degree, Paredes was unstoppable. In 1951, Paredes earned a bachelor's degree from the University of Texas at Austin, graduating summa cum laude. By 1956, he had earned his masters and his doctorate degrees from UT Austin, and was one of relatively few Hispanics in Texas to obtain a college degree in the 1950s.
In 1994, Texas Southmost College honored Paredes with its highest award when he was named a Distinguished Alumnus. Four years later, he returned to the campus to be welcomed back as a hometown hero. With mariachis and dancers, heartfelt words, and rousing canciones, UTB/TSC celebrated Dr. Americo Paredes Day.
That day there were many students in the crowd and he told them to take advantage of the opportunities before them and urged them to continue the struggle in which he had been engaged all his life.
In 2003, the local legend, was honored with a the dedication of the Dr. Americo Paredes Elementary School, with the Brownsville school district.
Considered one of the most important and influential American folklorists in the field of Mexican American and borderland folklore, Paredes' writings span more than four decades and continue to inspire a generation of scholars.
Although he lived in Austin for almost 50 years, Paredes still had close ties to Brownsville and considered Brownsville his home.
He was still writing, singing, and passing on his treasure of border folklore at the time of his death in May of 1999 at the age of 83
Physical Description
.MP4, 00:10:52, 169 MB
Recommended Citation
UTB/TSC Archives - Media (BLIBR0075), UTRGV Digital Library, The University of Texas – Rio Grande Valley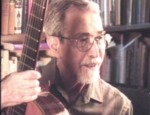 COinS