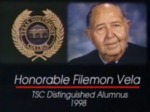 Identifier
BLIBR0075_DAA_1998_Filemon Vela.mp4
Description
Distinguished Alumnus Award recipient of 1998. Hon. Filemon B. Vela is a former judge of the United States District Court. Texas Southmost College Alumnus '56
"We have doctors; we have lawyers; we have engineers; we have teachers…who are there only because of the fact that this institution was available. I am convinced there are no other institutions in this community that offer the opportunities that TSC and The University of Texas at Brownsville offer."
Born May 1, 1935 in Harlingen, Texas, Filemon B. Vela said his strong belief in education was instilled in him at an early age by his parents, Maria Luisa and Roberto Sr.
Following his graduation from Harlingen High School in 1954, Vela enrolled at TSC. All five of his brothers attended the junior college.
From TSC, Vela went on to The University of Texas at Austin, but he postponed his studies so he could serve in the U.S. Army. After the service, Judge Vela entered St. Mary's University Law School and earned a Doctor of Jurisprudence in 1962.
Vela returned home and entered the private practice of law until he took office as a state district judge for Cameron and Willacy Counties in 1975. He served five years before President Jimmy Carter nominated him as a federal judge in 1980. He served until 2000 when he retired and received senior status.
He taped more than 200 radio programs stressing the value of an education, encouraging children to stay in school and promoting literacy programs. He said he did this because he felt it was as much his duty as it was to hold court.
Physical Description
.MP4, 00:04:48, 25 MB
Recommended Citation
UTB/TSC Archives - Media (BLIBR0075), UTRGV Digital Library, The University of Texas – Rio Grande Valley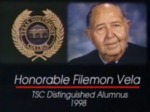 COinS