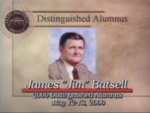 Identifier
BLIBR0075_DAA_2000_James 'Jim' Batsell.mp4
Description
Distinguished Alumnus Award recipient of 2000. James "Jim" Richard Batsell is a retired businessman and former long-time commissioner of the Brownsville Navigation District. Texas Southmost College Alumnus '40
"We had friends from San Benito and Harlingen who came to the junior college by bus and so we developed some new friendships."
In those days money was hard to come by, so many students worked part time. James Batsell worked in the family store and at the college, where he was a yard monitor. He said his job was to keep students off the lawn.
Batsell was on the yearbook staff that produced the first yearbook called El Charro. He also served as class secretary-treasurer. After graduation he transferred to the University of Texas at Austin, and was one of three graduates to earn a bachelor of business administration degree in retailing.
Returning to Brownsville, he worked in the family business and was active in the community. He served as a port commissioner for 30 years during a time of steady growth and progress at the Port of Brownsville.
Physical Description
.MP4, 00:08:18, 121 MB
Recommended Citation
UTB/TSC Archives - Media (BLIBR0075), UTRGV Digital Library, The University of Texas – Rio Grande Valley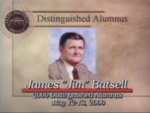 COinS