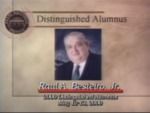 Identifier
BLIBR0075_DAA_2000_Raul A. Besteiro.mp4
Description
"When I went to TSC, I had some of the finest teachers I ever had. What they gave me was an education and a foundation that I could not have received anywhere else."
Raul A. Besteiro, Jr. or "Mr. B" as everyone affectionately knew him, attended TSC in 1952 after graduating from Saint Joseph Academy. In a 1999 interview, he said staying close to home gave him time to mature and appreciate the individual attention he had received as a student at TSC.
The junior college also had a special place in Besteiro's heart. It was where he met his future wife, Mina. Mina was the Bougainvillea Queen and Besteiro was her escort.
After attending TSC, Besteiro pursued his studies at The University of Texas at Austin where he graduated in 1957 with B.A. in zoology and chemistry. He also has a Master of Arts degree from Texas A and I University in Kingsville.
Before joining the Port of Brownsville, Besteiro was a long-time educator serving as a teacher, assistant principal and principal of Brownsville High School, the city's only high school at the time.
While he was principal, he was the first in Texas to introduce the dual division concept to relieve the overcrowding at the high school. At that time, Brownsville High School was the largest high school in the country.
In 1976, Besteiro was appointed superintendent. During his 13-year tenure, he led the district through tremendous growth overseeing the construction of ten new elementary, junior high and high schools, and a new administration building. Today, a middle school bears his name.
Physical Description
.MP4, 00:07:32, 100 MB
Recommended Citation
UTB/TSC Archives - Media (BLIBR0075), UTRGV Digital Library, The University of Texas – Rio Grande Valley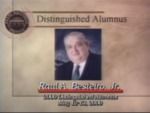 COinS