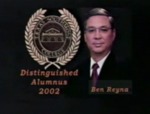 Identifier
BLIBR0075_DAA_2002_Ben Reyna.mp4
Description
Distinguished Alumnus Award recipient of 2002. Benigno "Ben" G. Reyna is a former assistant to the Vice President of Academic Affairs – Federal Relations at UTB/TSC, and former Director of the U.S. Marshals Service. Texas Southmost College Alumnus '90
"The arches around Gorgas Hall symbolize history but to me they also symbolize opportunity. Roots in Brownsville, roots at TSC, it's in my heart, this is my home, TSC will always be my college."
The son of Mexican immigrants, Reyna is one of three children born to Benigno and Carmen Reyna of Brownsville.
In 1983, Reyna earned an occupational technical certificate and in 1990, he received an Associate of Arts degree from TSC. He went on to earn a bachelor's degree in criminal justice from Pan American University at Brownsville.
During his 25-year career with the police department, he rose through the ranks to eventually become police chief in 1995. It was while he was police commander that Reyna met George W. Bush.
When Bush became governor, he appointed Reyna to the Texas Commission on Law Enforcement Office Standards and Education. In May of 2000, the Governor appointed Reyna as the presiding officer. Their friendship and mutual respect continued when the Governor was elected President.
In May of 2001, Reyna retired after six years as police chief. One week into his retirement, Reyna received the call from the White House asking if he would be interested in serving in the administration.
Days after 9/11, Reyna went before the Senate Judiciary committee before he was confirmed by the U.S.Senate. On December 5, 2001, before family and friends, Reyna received the oath of office from Attorney General John Ashcroft.
The Marshals Service is the oldest federal law enforcement agency created in 1789 by President George Washington. As Director, he oversaw an agency of more than 4000 employees.
Physical Description
.MP4, 00:09:45, 165 MB
Recommended Citation
UTB/TSC Archives - Media (BLIBR0075), UTRGV Digital Library, The University of Texas – Rio Grande Valley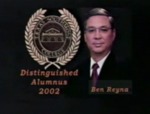 COinS