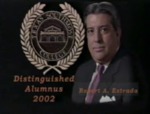 Identifier
BLIBR0075_DAA_2002_Robert A. Estrada.mp4
Description
Distinguished Alumnus Award recipient of 2002. Robert A. Estrada is chairman and chief executive officer of Estrada Hinojosa and Company, Inc., and former regent of The University of Texas System. Texas Southmost College Alumnus '67
"All the training that I received at Texas Southmost College was excellent. I graduated with honors from The University of Texas at Austin in Communications thanks to the preparation that I had at TSC."
Robert A. Estrada of Dallas, is a graduate of St. Joseph Academy and attended Texas Southmost College in 1967. While at TSC, he was editor of The Collegian. He subsequently received his bachelor's and law degrees from the University of Texas at Austin.
An attorney, he is chairman of Estrada Hinojosa & Company, Inc., a Texas-based investment banking firm he co-founded in 1992. Prior to becoming an investment banker, Estrada practiced law in Dallas as a bond lawyer.
Estrada is also the former chairman of the Municipal Securities Rulemaking Board, a self regulatory organization that sets standards for the municipal securities industry. He was elected to that position after two years of service on the board.
Physical Description
.MP4, 00:08:17, 141 MB
Recommended Citation
UTB/TSC Archives - Media (BLIBR0075), UTRGV Digital Library, The University of Texas – Rio Grande Valley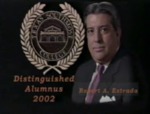 COinS