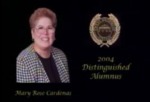 Title
Distinguished Alumnus Award 2004, Mary Rose Cardenas
Description
Distinguished Alumnus Award recipient of 2004. Mary Rose Cardenas is a former trustee and chair of the Texas Southmost College District and co-owner and vice president of Cardenas Motors and Cardenas Development Co. Inc. Texas Southmost College Alumna '48
"My Husband claims that I spent most of my time thinking about the college, talking to people about the college, or thinking for the college and he's right. Because, since the beginning, I have known that Texas Southmost College was this community's greatest asset."
Mary Rose Cardenas attended classes in the 1940s when TSC was known as Brownsville Junior College. She was forced to withdraw at the insistence of her "very old-fashioned" father, who was concerned about the number of GIs returning to the college after WWII.
Dreams of college were left behind permanently at age 17, when Cardenas took over supporting the family after her father became ill.
As a young woman, then wife and mother, Cardenas worked as a bookkeeper and manager for several Brownsville businesses over the years. She also worked side-by-side with her husband who secured the city's first Buick franchise in 1971. Cardenas Motors now has dealerships in Brownsville and Harlingen and was cited by Hispanic Business Magazine as one of the nation's top Hispanic-owned corporations. She is Co-owner and Vice President of Cardenas Motors and Cardenas Development.
First elected to the TSC Board of Trustees in 1984, she was re-elected in 1990 and 1996. She served four terms as Chairman.
Under her leadership as chair, the college began its groundbreaking partnership with UT Brownsville, restored an historic campus, added new acreage and numerous state-of-the-art buildings, and launched an award-winning scholarship program that made higher education possible for thousands of talented students. Her energy and persistence are credited with bringing a full, four-year university to Brownsville many years sooner than UT officials had originally planned.
She has served her community on various boards including the Driscoll Children's Hospital, Valley Regional Medical Center, the Rio Grande Council of the Boy Scouts of America, and the Catholic Diocese of Brownsville. The recipient of numerous awards, most recently she received the prestigious Distinguished Service Award from the Association of Governing Boards of Universities and Colleges.
Physical Description
.MP4, 00:11:54, 183 MB
Recommended Citation
UTB/TSC Archives - Media, UTRGV Digital Library, The University of Texas – Rio Grande Valley. Accessed via https://scholarworks.utrgv.edu/utbmedia/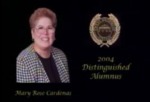 COinS