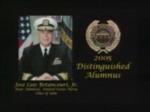 Identifier
BLIBR0075_DAA_2005_Jose Luis Betancourt Jr.mp4
Description
Distinguished Alumnus Award recipient of 2005. José Luis Betancourt Jr. is the former chief administrative and operations Officer, San Diego Schools, and retired Rear Admiral, U.S. Navy. Texas Southmost College Alumnus '69
"Had it not been for the opportunity that I received to be exposed to college level work at Texas Southmost College, I never would have received my degree, I never would have joined the Navy, I never would have attained the opportunities that I've had."
Born in Matamoros and raised in Brownsville, Jose Luis Betancourt began his college education at TSC. He graduated in 1969 and went on to earn a bachelor's degree in English and Spanish graduating cum laude from Pan American University, now UT Pan American. He also has a master's degree from the Fletcher School of Law and Diplomacy from Tufts University and the Industrial College of the Armed Forces in Washington D.C.
Betancourt was Commander of the U.S. Navy's Southwest Region based in San Diego, overseeing a billion-dollar budget, including aircraft squadrons and ships from San Diego, California to Hawaii.
Betancourt's naval career took him all over the world, including commanding the USS Merrill in the Persian Gulf during Operation Desert Storm. His ashore appointments included service in the International Military Staff at NATO headquarters in Brussels, Belgium.
Physical Description
.MP4, 00:09:11, 121 MB
Recommended Citation
UTB/TSC Archives - Media (BLIBR0075), UTRGV Digital Library, The University of Texas – Rio Grande Valley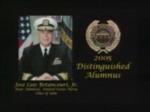 COinS