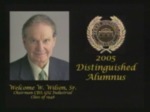 Identifier
BLIBR0075_DAA_2005_Welcome Wilson.mp4
Description
Distinguished Alumnus Award recipient of 2005. Welcome W. Wilson Sr. is chairman and chief executive officer of GSL Industrial, Ltd. Texas Southmost College Alumnus '46
"I would recommend to any American family that they send their children to a local college for the first two years. It was a substantial advantage to have the extra maturity when I did go away…and in a small institution you get to do more."
Welcome W. Wilson is Chairman and CEO of GSL Industrial Holdings, a partner in more than 50 industrial properties in Texas, and has been a successful real estate developer, financier, and broker in Houston since 1955.
After graduating from Brownsville Junior College (later renamed Texas Southmost College) in 1946, he received a Bachelor of Business Administration degree for the University of Houston in 1948. He served as a Naval Officer in Japan during the Korean War.
In 1956, President Dwight Eisenhower appointed Wilson to a post in the Executive Office during the Cold War. He also served as Five State Director of the Federal Emergency Management Agency, where he received the Arthur Fleming Award as one of Ten Outstanding Young Men in Federal Service. His five years of service include work in the Executive Office of the President under John F. Kennedy. In 1966, President Lyndon Johnson appointed him as a Special Ambassador to Nicaragua.
Physical Description
.MP4, 00:08:22, 112 MB
Recommended Citation
UTB/TSC Archives - Media (BLIBR0075), UTRGV Digital Library, The University of Texas – Rio Grande Valley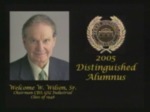 COinS