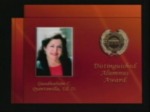 Identifier
BLIBR0075_DAA_2006_Guadalupe C. Quintanilla.mp4
Description
Distinguished Alumnus Award recipient of 2006. Guadalupe C. Quintanilla, Ed.D. is president of Cross-cultural Communication Center of Houston, and associate professor of Modern and Classical Languages Department at the University of Houston. Texas Southmost College Alumna '68
"I really have received a lot of recognition and a lot of honors, but the recognition from Texas Southmost College is the most important to be because this is the community that gave me a start, and it wasn't for Texas Southmost College I wouldn't be here."
Guadalupe C. Quintanilla began life in a poor Mexican village without running water or electricity. Upon her immigration to Brownsville as a young girl, she was labeled "mentally retarded" because she didn't know enough English to test well. But, the woman who had worked in several family businesses since the age of five overcame the adversity to earn a doctorate degree, serve as a faculty member at the University of Houston and run her own company, Cross-Cultural Communication Center of Houston.
As the first Mexican American woman with a doctorate degree at the University of Houston, she designed the Mexican American studies and multicultural bilingual programs. She made sure that her three children continued their own educations; one is a physician and two earned doctor of law degrees.
Physical Description
.MP4, 00:13:11, 183 MB
Recommended Citation
UTB/TSC Archives - Media (BLIBR0075), UTRGV Digital Library, The University of Texas – Rio Grande Valley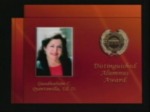 COinS