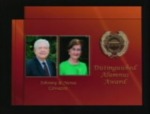 Identifier
BLIBR0075_DAA_2006_Johnny N. and Ma. Teresa S. Cavazos.mp4
Description
Distinguished Alumnus Award recipients of 2006. Johnny N. and Ma. Teresa (Nena) S. Cavazos are educators, philanthropists, and owners of Cavazos Insurance Agency. Texas Southmost College Alumnus '50, Texas Southmost College Alumnus '50
"Brownsville has been very good to us and we are firm believers in education, so we feel that we should give back to the community."
The Cavazos who were the first husband and wife selected to receive the award, met on the TSC campus in the 1950s. Both went on to earn bachelor degrees from San Antonio universities. A star on TSC's last football team, Johnny became a coach in area schools. Nena worked as a teacher before they launched their very successful insurance business in 1965.
The couple has used their success to give a hand up to those who follow behind them. Their creation of a $1 million scholarship endowment at UTB/TSC is helping kinesiology and elementary education majors pay for their education.
Physical Description
.MP4, 00:12:11, 166 MB
Recommended Citation
UTB/TSC Archives - Media (BLIBR0075), UTRGV Digital Library, The University of Texas – Rio Grande Valley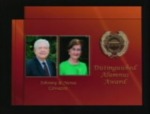 COinS