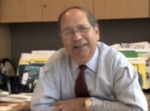 Identifier
BLIBR0075_DAA_2008_Ciro_Valent_Sumaya
Description
Dr. Ciro Valent Sumaya attended TSC in 1959 and 1960, before finishing as a Phi Beta Kappa graduate of The University of Texas at Austin.
His career in Texas and Washington has ranged from medical research in pediatric viral infections and national health policy to becoming founding dean of the School of Rural Public Health at Texas A&M Health Science Center.
Sumaya attended medical school at the University of Texas Medical Branch in Galveston, interned at the University of Southern California and was a pediatric resident at St. Christopher's Hospital for Children in Philadelphia.
He studied children's infectious diseases as a postgraduate fellow at Tulane University and also earned a master's degree in public health and tropical medicine there.
Before joining Texas A&M in 1997, Sumaya was a professor and researcher at University of California at Los Angeles and served as associate medical dean at The University of Texas Health Science Center at San Antonio, where he established the South Texas Health Research Center.
An appointment in 1993 to the Presidential Task Force on National Health Care Reform first brought him to Washington, where he later headed programs dealing with healthcare delivery and health professions education.
Physical Description
.MP4, 00:12:02, 309 MB
Recommended Citation
UTB/TSC Archives - Media (BLIBR0075), UTRGV Digital Library, The University of Texas – Rio Grande Valley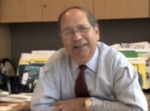 COinS