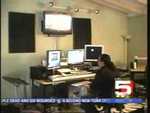 (WITHDRAW: DUPLICATE) 05/24/ 2009, John Hunter, UTB/TSC Distinguished Alumnus, Ch-5 News cast.
https://www.youtube.com/watch?v=6rVr0Dq2CT4
Description
People stories, a KRGV news cast. that profiles John Hunter as the 2009 Distinguished Alumnus. Every year at spring commencement UTB/TSC former students are honored as distinguished Alumni. A Musician who is making his mark in Hollywood was one the recipient this year. Aired May 24 2009,
This paper has been withdrawn.