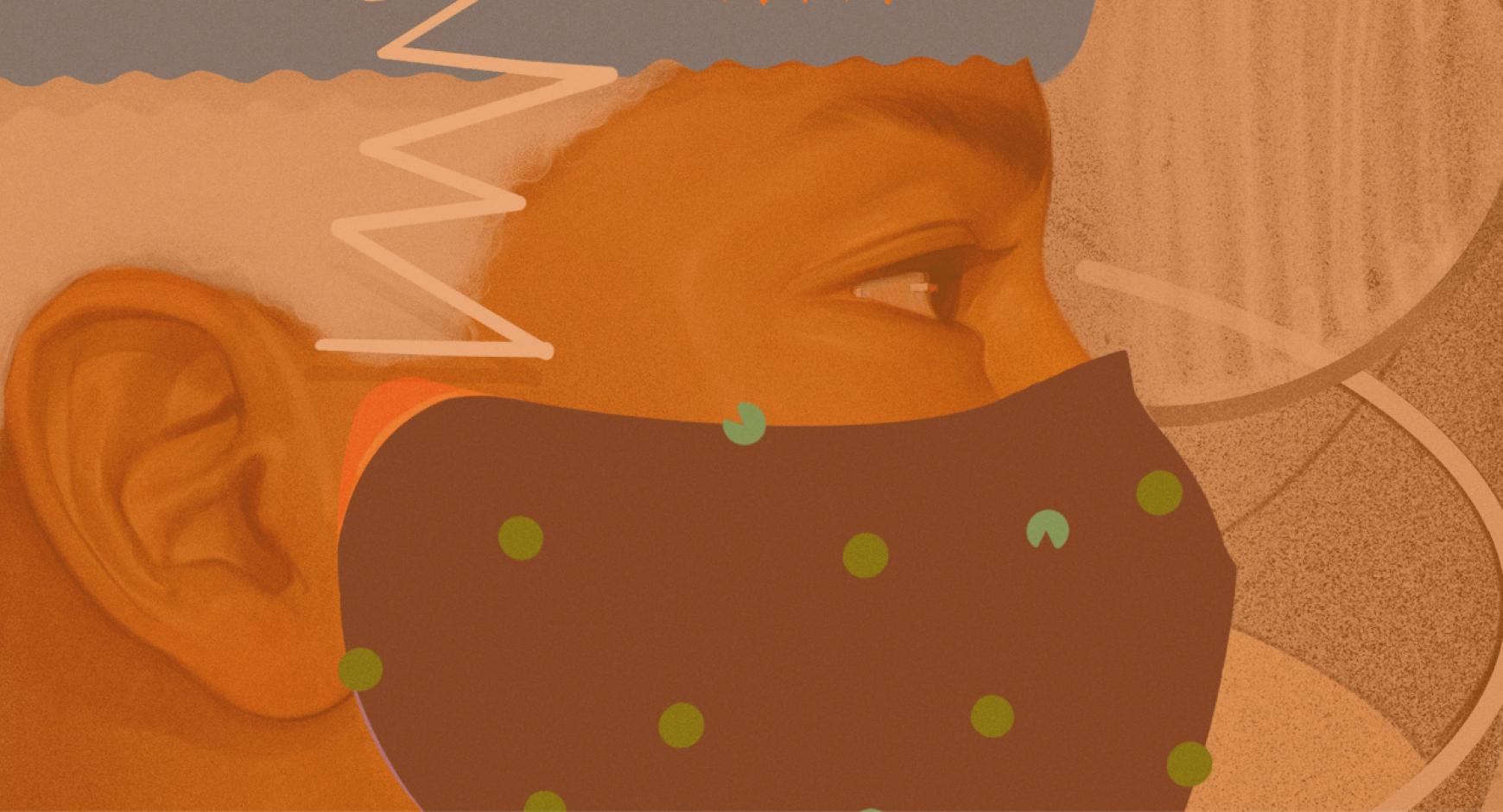 Title
Disciplines
Arts and Humanities
Abstract
SPEAKERS
Aaron Cervantez
Fr. Jorge Gómez
-- Aaron Cervantez 00:00
Today is November 10, 2020. My name is Aaron Cervantes, and I'm going to be interviewing Father Jorge Gomez for the University Library Special Collections and Archives at the University of Texas Rio Grande Valley, hereafter abbreviated as UTRGV. This project is in partnership with the Voces Oral History Center at the University of Texas at Austin. Please know that this interview will be placed in the University Library Special Collections and Archives at UTRGV and shared with the Voces Oral History Center at the University of Texas at Austin. If there is anything you do not wish to answer or talk about, I will honor those wishes. Also, if there is something that you want to talk about, please bring it up and we'll talk about it. Because we are not conducting this interview in person, I need to record you consenting to make sure you agree with the interview procedures before we continue. So, I will ask a series of six questions. Please say "Yes, I agree," or "No, I do not agree," after each question. Do you agree to give University Library Special Collections and Archives at UTRGV consent to archive your interview or other materials at the UTRGV University Library?
-- Jorge Gómez
Yes, I agree.
-- Aaron Cervantez
Do you grant UTRGV University Library Special Collections and Archives right, title, and interest in copyright over the interview and any materials you provide?
-- Jorge Gómez 01:45
I do.
-- Aaron Cervantez 01:47
Do you agree to allow the UTRGV University Library Special Collections and Archives to post this interview on the internet where it may be viewed by people around the world?
-- Jorge Gómez
I do agree.
-- Aaron Cervantez
Do you grant the University Library Special Collections and Archives consent to share your Zoom interview with the Voces Oral History Center at the University of Texas at Austin for the intention of the Voces of a Pandemic Oral History Mini-Project, which will include posting the interview on the internet?
-- Jorge Gómez
Yes, I do.
-- Aaron Cervantez
As you recall, we previously filled out a pre-interview form. We use information for the pre-interview forms to help in research. The entire form is kept in a secure Voces server at the University of Texas at Austin. Before Voces sends it to UTRGV Special Collections and Archives, we would have stripped out any contact information of yourself or family members, so that it will not be part of your public file. Your public file will only be accessible to UTRGV University Library. The final two questions to ask is for your consent on what I just described.
-- Jorge Gómez
Okay.
-- Aaron Cervantez
Do you wish to share the rest of your interview or public file available to researchers at UTRGV University Library Special Collections and Archives?
-- Jorge Gómez 03:25
Yes, I do. I wish.
-- Aaron Cervantez 03:28
On occasion, UTRGV Special Collections and Archives and Voces receives requests from journalists who wish to contact interview subjects. We only deal with the legitimate news outlets. Do you give consent to share your phone number or email with journalists?
-- Jorge Gómez 03:47
Yes.
-- Aaron Cervantez 03:47
Thank you for your consent. Your experiences and stories mean a lot to us at UTRGV Special Collections. I look forward to seeing what you have to see in the interview questions that follow.
-- Jorge Gómez
All right.
-- Aaron Cervantez
I would like to start off by thanking you Father for your time. Know that your stories and experiences are valuable to us at UTRGV Special Collections and Archives and the Voces project. Particularly for us at UTRGV Special Collections, we are committed to preserving the stories of Mexican Americans and Latinos of South Texas and the Rio Grande Valley, and those who work closely with those populations during this COVID-19 Pandemic. And because you are a priest at the Diocese of Brownsville, and the current director of the Basilica of Our Lady of San Juan del Valle National Shrine in San Juan, Texas, and because you, as an administrator, have been forced to make tough decisions regarding the management of the Basilica, its staff and pilgrims, I would like to start off by asking you if you could share a little bit about yourself with us a little bit about your background, where you are from and how it is you came to the Rio Grande Valley.
-- Jorge Gómez 05:16
All right. I'm originally from Arandas, Jalisco, Mexico. I entered the seminary in my home diocese, or San Juan de los Lagos back in 1992. And when I was about to finish college, it was the Bishop of the Diocese of Brownsville at that time, Bishop Raymundo Peña, he went to that part of Mexico to invite some of us to come and study with the Diocese of Brownsville. That's how I ended up accepting the invitation and coming to study with the Diocese of Brownsville. So, I moved in The Valley in 1999 to study English at Brownsville Villa Maria Institue.
-- Aaron Cervantez 05:58
Thank you so much. The next questions that I want to ask about is regarding your first understanding with COVID-19, and the first encounters you had with it. So how did you first hear about COVID-19? Did you hear about it on the radio, TV, friends or family?
-- Jorge Gómez 06:26
The first encounter, or the first time I heard about COVID-19, or the Coronavirus, was in the newspaper from Guadalajara. I read the newspaper from my state every day online, and they began to publish something on the Coronavirus, but that it was far, far away, in somewhere in China. It was probably in December, and then as we moved into the new year, that's when I began to hear more about the Coronavirus moving into Europe, and all the problems it was causing there, and then in New York and LA and then moving to South Texas. That's how it was, a progression until we get to us.
-- Aaron Cervantez 07:09
Okay, and what was your first reaction when you first started hearing about Coronavirus making its way to the Valley?
-- Jorge Gómez 07:21
I think for me, at the beginning was like "Oh, it's a disease that is far away, like Ebola from some 10 years ago." That it can cause some problems in in Texas, but I never thought it was going to be that strong. So as time progresses, I'm hearing of people dying and people are getting infected. And some states up north having to shut down the economy, and having to shut down schools and churches, malls, stores, and TV got to us. No, it is real and it is dangerous.
-- Aaron Cervantez 07:56
Definitely. Over the last few months, what news medias or other sources do you rely on to keep you informed on Coronavirus?
-- Jorge Gómez 08:06
Internet and newspaper and television.
-- Aaron Cervantez 08:14
Would you be able to share with me what you understand about COVID-19 as an infectious disease?
-- Jorge Gómez 08:22
I think we know less than what we wish we would know by now, because it's been in the United States for almost a year and we still don't have a vaccine. We still don't know the impact it has and, or, the aftermath of the illness for those who survived it. I wish we would know how to treat it now. And how to prevent the effects of the people that have had it.
-- Aaron Cervantez 08:49
Definitely. Would you take the first COVID-19 vaccine available on the market?
-- Jorge Gómez 08:57
I'll be very honest with you. I will take it if Dr. Fauci takes it. That's how I'll know. If Dr. Fauci takes the vaccine, I'll take it.
-- Aaron Cervantez 09:06
Definitely. Do your family members hold the same beliefs about COVID-19 as you do?
-- Jorge Gómez 09:15
I think like in every family, there is some members that really believe and take precautions, and the younger ones are like, "It's not for real. Or, it's not that bad." I think it's the two poles. I have family on both sides of the spectrum.
-- Aaron Cervantez 09:32
Definitely. Thank you so much for your responses to these last questions. I would like to continue the interview by asking you about the suspension of public mass and the closing of the Catholic churches in the US, but more specifically here in the Rio Grande Valley, Diocese of Brownsville. In March of 2020, Most Reverend Daniel E. Flores, Bishop of the Diocese of Brownsville, called for the closing of Catholic churches and the suspension of public mass for the first time in the Diocese 50-year history as a precaution to the Pandemic, calling for local parishes to livestream the mass and other devotions. As it was noted in The Valley Catholic, Bishop Flores celebrated the last public mass before the allowing of soft reopening in May 2020, at the Basilica on March 19. Would you be able to share with us how you and other priests of the diocese found out about the closing of the churches and the suspension of the public mass?
-- Jorge Gómez 10:45
First, let me tell you that actually was a very wise decision to close the churches, because in the Basilica, it's the second most visited shrine in the United States and Canada. We would get 20,000 people a week, and on Sundays, probably seven to 8,000 people just on one day. By Bishop making that decision to close the churches--not only the Basilica, but all the other 72 parishes in the diocese, it was a way of preventing more infections. Yes, way ahead of it. We had the deacons retreat, or those who are going to be priests or were already ordained priests, they were having the retreat here in San Juan, because Bishop worked with a retreat master, and he was going to go to Houston or to Louisiana to have, to lead the retreat. But at that time, Louisiana was a red spot, hot spot in the nation. So, they decided to come to San Juan and have a retreat here. And in that week is when he decided that the churches need to close down. So he asked me if we could have the last mass with the deacons that were in the retreat, and the faithful here in the Basilica, and that's how it happened. We had the last public mass with Bishop Flores on March 19, the Peace of St. Joseph.
-- Aaron Cervantez 12:12
How was the atmosphere at the Basilica, with everyone present, fully aware that this would be the last public mass for an unforeseen period?
-- Jorge Gómez 12:24
It was a touching moment, it was moving to see a lot of people crying because they knew that for some of them, it was going to be the last time they would come to us, as it happened to some people that later got infected and died of COVID. When they found out that it was going to be the last mass in public or open to the pilgrims, we get a lot of people coming to mass that day, and Bishop Flores and Bishop Mario, and myself, we celebrated that mass. But it was sad. And, well, being the first time in history that the Basilica was not going to have pilgrims inside, after mass, people stayed there praying, and crying, and telling me, "So I'm not going to be able to come and see, and we can't sit anymore?"
[I would say], "No, but just for a while, you know?" but it was a sad moment. But at the same time, it was some necessary reaction that needed to be taken.
-- Aaron Cervantez 13:25
Definitely. Was the Basilica prepared for the live streaming of masses and other services?
-- Jorge Gómez 13:31
Thank God we were, because we were live streaming the mass, the masses and healing services since the previous year. We had probably been into that modality for almost six months. So, by the time COVID came and we had to close it the Basilica, we were already live streaming the masses in YouTube and Facebook.
-- Aaron Cervantez 13:54
Definitely. My next question is you celebrated the mass, that first mass with no pilgrims attending. What was that feeling? How were you feeling at that moment?
-- Jorge Gómez 14:14
Ah, yeah, it is it was hard, because I'm used to celebrating the mass with at least two or three more, answering, and "With your speed," or "Amen." And having to celebrate the mass in front of two or three cameras at a time, and knowing that people were watching the mass at home, and not only here in The Valley, because due to the Pandemic, a lot of people were confined in their nursing homes or hospitals, and the way to watch the mass was through their phones or computers, laptops. And I knew that people were watching us not only here, but in Mexico and some other places. So, it was kind of weird at the beginning. I needed to get used to celebrating mass in front of cameras and with no people answering. I needed to keep focus that the mystery that I'm celebrating, the sacraments that is there. Regardless of the presence of the faithful or not, it's still happening. The sacrifice of the Christ on the altar is still happening.
-- Aaron Cervantez 15:22
During this closedown time, did you hear from any of the pilgrims of the Basilica?
-- Jorge Gómez 15:29
Yes. I was constantly receiving emails or phone calls, texts from whoever has my personal phone, asking me, "When are you going to let us go in the Basilica? Can we go at least around to pray the Stations of the Cross?"
Because you know that we get hundreds of people every day that come either to run around the Stations of the Cross, or to pray. And especially in the most difficult moments, we had to be closed to everybody, because that was what the city and the county was requiring that part and maybe or the public opinion need to be closed.
-- Aaron Cervantez 16:08
During this time, the Basilica was approached by Telemundo to broadcast its mass. How did this come about?
-- Jorge Gómez 16:17
I don't know how they heard about us, but it was a blessing for the Basilica. Yeah, I got it, I received a phone call before Easter Sunday, or on Sunday, I think it was. It was on Sunday that they were interested in in streaming the mass on Telemundo for the Spanish speaking population. Not only in The Valley, but it was in 33 different stations they have all over the country. So we had people watching the mass from the Basilica in New York and California, Houston, Chicago, Indiana. And after that I started to get…(unintelligible) that's like, such a beautiful gift because we can't go to mass, but now we can watch it on TV. Especially the elderly who don't have a YouTube or Facebook, or they're not familiar with those platforms, so they were watching the mass on a regular TV, old fashioned TV sometimes. So Telemundo asked me to do it for two Sundays: on Sunday and Easter Sunday. And when they saw the amount of people that was watching, they decided to keep it going for several more weeks. So, they kept the mass on Telemundo and TV until probably it was after Mother's Day.
-- Aaron Cervantez 17:36
Well, after the broadcast was stopped by Telemundo, did you receive any outreach from the people that had seen the mass that maybe didn't know about the Basilica?
-- Jorge Gómez 17:50
Yes, specifically from two people. One woman in New York, who said that was the only way she could watch the mass, because she was not see going out, and she doesn't have a Facebook or YouTube. She wanted to continue watching the mass. But I said "No, it's not up to us, no, it's Telemundo."
So the way they did it, they were feeding from our YouTube live streaming. They were not here with their cameras, they would get it from our cameras on our YouTube and then from there they went to the nation's. One of the experiences I had at that time, there were some people who were telling me, "Father, are you aware that we have some hearing-impaired people that they used to go to mass when there is an interpreter and there's a sign language, and now they can't?"
So that was a challenge. I know some sign language, so I called one of the interpreters that I know, and she came, and we were signing the masses, two masses. We did two. It was a great experience and people watching the mass and at the same time those who are hearing impaired, they were participating. It was a blessing.
-- Aaron Cervantez 19:11
Definitely, I'm sure it was very appreciated. I would like to move forward and ask you some questions regarding the administrative challenges that you faced. Especially during the stay-at-home orders. With the stay at home orders issued by Hidalgo County, what did that mean for other entities on the Basilica grounds, such as the Basilica gift shop, the hotel, and the cafeteria?
-- Jorge Gómez 19:44
We needed to close down the cafeteria, the hotel, and the gift shop because they're considered non-essential. And since pilgrims were not travelling, they were not coming. We needed to close everything. The gift shop, we kept it open until they said it is not essential. So ourselves, we're online only.
-- Aaron Cervantez 20:09
Definitely. Did you offer any curbside services through your online store?
-- Jorge Gómez 20:16
Not curbside, but we did a delivery, we made out whatever they wanted to buy.
-- Aaron Cervantez 20:24
Did this cause you to have to furlough, early off, any employees such as custodians, ground keepers, gift shops, employees, or other clergy?
-- Jorge Gómez 20:37
Unfortunately, we did have to. I did have to take those decisions, because since the cafeteria was closed down, we didn't need those folks, and the dishwashers and the ones were working there. The same happened at the hotel since it was closed for several weeks. So, I didn't need to have all these people working on the payroll when I didn't have anything for them to do. The same happened at the gift shop. I had to furlough some of the employees, and the renewal center as well. Because the renewal center is, booked for a year in advance, for retreats and conferences and meetings. And we're in November, and we still don't have anything on our schedule until January 2021. So yes, we did go down in numbers of the employees.
-- Aaron Cervantez 21:36
How has this Pandemic affected the Basilica's finances?
-- Jorge Gómez 21:42
Well, I think like every institution, we depend on donations. Especially the Basilica, pilgrims come and give us donations. Since we closed the Basilica for almost eight weeks, or a little bit over eight weeks, pilgrims were not allowed to come. Thank God, there's some generous people and pilgrims that were still mailing in their checks and sending their donations. We were able to keep the the Basilica going.
-- Aaron Cervantez 22:15
Does the Vatican assist churches with finances during COVID? Or perhaps any other agency?
-- Jorge Gómez 22:24
Not the Vatican. The diocese, through a network of generous donors or manufacturers they have, the diocese has been able to help parishes who are in critical situations, but some of them were already not having enough money to pay the bills, electricity, or water… now the diocese is helping some of the parishes. Thank God with the generosity of our pilgrims, we are able to keep the Basilica open now and still running with the money they're giving to us.
-- Aaron Cervantez 23:00
Definitely. Were there any stimulus packages offered for Catholic churches?
-- Jorge Gómez 23:05
It was. We took advantage of this and are very grateful to the government. We have the PPP, paycheck protection program, the payroll protection program. They helped us to keep some of the employees on the payroll for some weeks.
-- Aaron Cervantez 23:22
Perfect. With the reopening of the Catholic churches in the diocese, what regulations did the Basilica put in place for the protection of its programs and its employees?
-- Jorge Gómez 23:34
Everyone who comes into the Basilica needs to be wearing a face mask. Hand Sanitizer at the entrance and at the exit doors. We have several doors of the Basilica; we're using only the main doors to enter and the side doors to exit, that way we avoid people crossing with each other and avoiding the infections. So we have the main entrances to go in, and then the side doors to go out. Plus the employees inside or outside the Basilica, they need to be wearing a face mask when there is someone else. We are accommodating the people, the pilgrims that come to us, in every other pew. We don't sit them in every pew, and we are very strict on making sure that if they don't come together from the same household, they need to keep six feet apart even when they're in the same pew. If they come as a family and in the same car, they can sit together in the same pew, but [we are] always keeping the rule of every other pew and six feet apart from each other.
-- Aaron Cervantez 24:42
Thank you. I would like to continue with some questions regarding sacraments and other services offered to the faithful in the Rio Grande Valley. Specifically with the Anointing of the Sick or Last Rites. Did this cause a change during the pandemic?
-- Jorge Gómez 25:03
Yes, the hospitals were very strict and on not letting anyone go in. And if they needed the Anointing of the Sick, only the priests who are assigned to the hospital as chaplains, they, because they received a special training and do coats and dressing and all that. So they were the only ones that were able to go into their hospitals.
-- Aaron Cervantez 25:29
I know that the Basilica doesn't offer a funeral. Funerals have masses of resurrection. But do you know how that changed in the parish levels?
-- Jorge Gómez 25:41
Yes, the some of the parishes that I know, they reduced the number of people that go to the funeral to 10 or 15 at the most, depending on the size of the of the church. If it is a big church, they can accommodate more. But if it is a small church, the max is 10 people that they can accept for a funeral.
-- Aaron Cervantez 26:06
Thank you. Would you be able to share with us some of the happiest or saddest moments that you experienced as a priest during this Pandemic?
-- Jorge Gómez 26:17
Yeah. I think the happiest moments is when I see the faith and devotion of the people, the pilgrims that come. I'm going to tell you one of the few cases that we had during the Pandemic when the Basilica was closed. Through the general email address of the Basilica, I received an email from someone who was coming all the way from Amarillo with her dying grandfather. His last wish was to come and see the beacon of the Basilica. So she emailed me when they were already in San Antonio, and it was on a Saturday, and she said, "It's six in the morning and we're leaving San Antonio, we're expected to get to San Juan at 10am."
So by the time I saw the email, they were already halfway. And to me, it was heartbreaking to say, "No, you can't come, you know, it's a regulation from the city and the county. I prayed and I said, "God help me on this note, because I know I can't do this, but these people have been traveling for 10 hours on an RV and some other vehicles."
The whole family came, and I told them, "Come through the back door. I'll open the door, just make sure you keep the six feet apart, and you go in pray in the front, take your grandfather."
It was moving to see. That poor man came on a bed in that RV that they rented to come all the way from Amarillo, and to see him looking at the statue of Our Blessed Mother, and to see the whole family in prayer, that was impressive and moving. It was a little bit before the 11:30 mass that we livestream, and since the Basilica is very big, they begged me, "Can we stay for mass? We haven't gone to mass in weeks. Can we stay?"
I said, "Yes, but just sit one in every pew and every other pew. I don't want you together."
So it was about 15 of them who came all the way, and then they went back. A few days later, I get an email from the granddaughter who had emailed me first, telling me that her grandfather had died and that she was very appreciative of the fact that we opened the Basilica for him to have his last wish, to see the Virgin.
And the saddest moment is too may. There is stories of people who come, just they walk with the ashes of their loved ones to the Basilica, because it is very important for them to bring the cremated human remains of the body for mass, especially in the Hispanic and Mexican American people. It is not, they wouldn't accept only taking them to the cemetery. They need to bring them to mass or to church. And since some of the parishes were not offering the services or the mass of resurrection, as you mentioned before, I decided to set up a little altar with a cross, white cross, and little altar in there. People don't call before, they just walk in with a box of the cremated remains of the human body. And so I instructed the sacristans and those who work inside the Basilica, if you see anybody with an urn of ashes, just tell them if they want, they can put them there. So, we've been doing a lot of those. People just walk in and [say], "Oh I had no idea you were doing this, but thank you," and I do the blessing of their human remains. And at the end I do the prayer of commendation, and that's what we can do and people are very appreciative of little details like this.
-- Aaron Cervantez 30:00
With the mandatory cremations that we are experiencing right now, do you see a need that maybe is currently not available? Or offered in the RGV? Like mausoleums for the niches?
-- Jorge Gómez 30:14
Yes, definitely. It is a need in our diocese, because a lot of people, it was not in their plan to cremate the bodies, but since it is mandatory, especially those who died of COVID, we don't have a church or a place in the diocese that we can that have a mausoleum. We're planning, and hopefully it comes to a reality in the Basilica that one day we'll have a mausoleum for people to bring the ashes of their loved ones.
-- Aaron Cervantez 30:49
Perfect. I want to go into the final questions here. I know being the rector of the Basilica, you have your your schedule full. But I want to continue with asking you--are you satisfied with the local response to COVID-19 throughout the diocese?
-- Jorge Gómez 31:13
In some areas, yes. But some…it is contradictory sometimes that they're enforcing too much in closing the church and keeping it on the 50% or 25%. And you go to the pulga or you go to one of the stores and people are just coming with each other. But yet, they don't want to let the churches get more people because it is a point of infection. But our authority is really taking care of people in the pulga or central commerciales, wherever they go, that you see people not keeping safe distance, not wearing face masks. I think in the church where the churches, especially--I speak for our Catholic churches, I don't know other denominations--but the safest places to go is one of the churches because we sanitize the church after every service or mass, we make sure that we have hand sanitizer, that we clean the church, that everything is in perfect conditions for the people to be, to feel safe.
-- Aaron Cervantez 32:16
Definitely. Are you satisfied with the state response to COVID-19 led by Governor [Gregory] Abbott?
-- Jorge Gómez 32:25
I think the measures they're taking, they're just within the range of what we need now. Some of the precautions they're taking, like closing the bridge, I think it's a little bit too much now, because it's been closed since March, in between Mexico and Texas. And you know that the economy of The Valley depends a lot on the Mexican travelers or tourists. But yet, they can fly into San Antonio or McAllen. There is no problem with a flight but not crossing, land crossing. I don't find sense in that.
-- Aaron Cervantez 33:08
Definitely. What about the national response to COVID-19 led by President Trump and his administration?
-- Jorge Gómez 33:17
Not politics.
-- Aaron Cervantez 33:20
Definitely. If you had the power to respond to COVID-19, what would you do differently, if anything?
-- Jorge Gómez 33:32
I think enforcing the use of face masks, listening to health authorities. I have a big respect for Dr. Fauci, and I think his recommendations are good, but not taken seriously in some places or by some political leaders. That, I think, that's affecting a lot of, or increasing the number of cases, in the country. I would definitely say face mask is a must, and probably invest a little bit more on scientific research to find the vaccine for COVID.
-- Aaron Cervantez 34:12
Definitely. Being that this year was a special year because of the presidential election, and being that our nation is run by democracy, did you vote?
-- Jorge Gómez
(Nods)
-- Aaron Cervantez
And if you did, did you notice anything different because of the COVID-19 Pandemic?
-- Jorge Gómez 34:35
The only probably different thing is the mail-in ballots, but I went in person to vote.
-- Aaron Cervantez 34:41
Great. The last question, is there anything else you would like to share with me about your experiences with COVID-19 that I may have not asked about?
-- Jorge Gómez 34:56
No, I think you've covered almost everything, and thank you. Thank you for the interview.
-- Aaron Cervantez 35:01
Thank you for allowing us to interview you. Like I said before, this is going to be helping us give an oral history of our experience during this pandemic, as a community here in the Rio Grande Valley, and being that the Basilica is a special place in the Valley, I did want to take some time to interview you for this.
-- Jorge Gómez 35:29
Thank you, Aaron.
-- Aaron Cervantez 35:30
Thank you, Father.
File description
MP4, 812 MB, duration: 00:35:35.
Recommended Citation
Gómez, Fr. Jorge.Videotaped Interview by Aaron Cervantez. November 10, 2020.Voces of a Pandemic Collection, Special Collections & Archives, University of Texas Rio Grande Valley, https://scholarworks.utrgv.edu/voces/3.