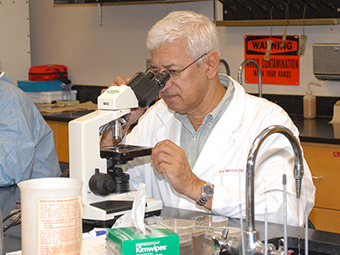 Abstract
Aerial color-infrared (CIR) photography was used to detect and catalog unauthorized solid waste disposal sites around Donna Reservoir in the Lower Rio Grande Valley (LRGV) of southern Texas. Qualitative visual evaluation of the positive transparencies showed 25 possible disposal sites randomly scattered throughout the study area, located in sites ranging from bare soil to grass and mixed brush/woods. These sites were transposed onto a computer-generated area map for ground survey confirmation and use by organizations planning to clean-up the sites. Ground-truthing was used to identify waste contents at each site and to estimate waste volumes and areas covered. Unauthorized solid waste sites were verified in 23 of the 25 locations. Two sites contained only broken concrete and asphalt being utilized as erosional fill material. The ground survey identified ten solid waste sites missed on the aerial photos. These sites were missed due to their small size (< 2 [m.sup.2]) and because they were covered by lodging guinea grass (Panicum maximum) or giant reed (Arundo donax). The addition of these missed sites to the other 25 locations hindered the overall accuracy of the aerial photographic survey (71.4%).
Recommended Citation
Webster, C. F.; Everitt, J. H.; Escobar, D. E.; Davis, M. R. Evaluation of facilitated succession at Las Palomas wildlife management area in south Texas. (2002). Texas Journal of Science, 54(2), 163–176.
Publication Title
The Texas Journal of Science