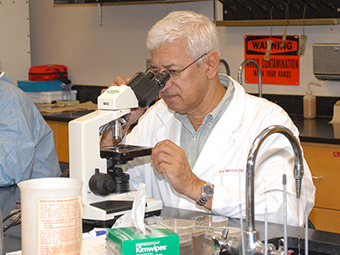 Abstract
Background
La Sal del Rey ("the King's Salt") is one of several naturally-occurring salt lakes in Hidalgo County, Texas and is part of the Lower Rio Grande Valley National Wildlife Refuge. The research objective was to isolate and characterize halophilic microorganisms from La Sal del Rey. Water samples were collected from the lake and a small creek that feeds into the lake. Soil samples were collected from land adjacent to the water sample locations. Sample salinity was determined using a refractometer. Samples were diluted and cultured on a synthetic saline medium to grow halophilic bacteria. The density of halophiles was estimated by viable plate counts. A collection of isolates was selected, gram-stained, tested for catalase, and characterized using API 20E® test strips. Isolates were putatively identified by sequencing the 16S rDNA. Carbon source utilization by the microbial community from each sample site was examined using EcoPlate™ assays and the carbon utilization total activity of the community was determined.
Results
Results showed that salinity ranged from 4 parts per thousand (ppt) at the lake water source to 420 ppt in water samples taken just along the lake shore. The density of halophilic bacteria in water samples ranged from 1.2 × 102 - 5.2 × 103 colony forming units per ml (cfu ml-1) whereas the density in soil samples ranged from 4.0 × 105 - 2.5 × 106 colony forming units per gram (cfu g-1). In general, as salinity increased the density of the bacterial community decreased. Microbial communities from water and soil samples were able to utilize 12 - 31 carbon substrates. The greatest number of substrates utilized was by water-borne communities compared to soil-based communities, especially at lower salinities. The majority of bacteria isolated were gram-negative, catalase-positive, rods. Biochemical profiles constructed from API 20E® test strips showed that bacterial isolates from low-salinity water samples (4 ppt) showed the greatest phenotypic diversity with regards to the types and number of positive tests from the strip. Isolates taken from water samples at the highest salinity (420 ppt) tended to be less diverse and have only a limited number of positive tests. Sequencing of 16S DNA displayed the presence of members of bacterial genera Bacillus, Halomonas, Pseudomonas, Exiguobacterium and others. The genus Bacillus was most commonly identified. None of the isolates were members of the Archaea probably due to dilution of salts in the samples.
Conclusions
The La Sal del Rey ecosystem supports a robust and diverse bacterial community despite the high salinity of the lake and soil. However, salinity does appear to a limiting factor with regards to the density and diversity of the bacterial communities that inhabit the lake and surrounding area.
Recommended Citation
Phillips, K., Zaidan, F., 3rd, Elizondo, O. R., & Lowe, K. L. (2012). Phenotypic characterization and 16S rDNA identification of culturable non-obligate halophilic bacterial communities from a hypersaline lake, La Sal del Rey, in extreme South Texas (USA). Aquatic biosystems, 8(1), 5. https://doi.org/10.1186/2046-9063-8-5
Creative Commons License


This work is licensed under a Creative Commons Attribution 3.0 License.
Publication Title
Aquatic Biosystems
DOI
https://doi.org/10.1186/2046-9063-8-5