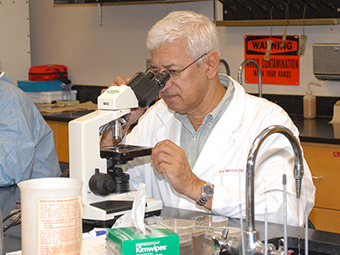 Publication Date
9-1-2014
Abstract
As the complexity of cellular signaling in inflammatory response emerges, it is increasingly clear that mitochondria are directly involved in, and in some cases are even required for, activation of inflammatory response. As a bioenergetic organellar network, mitochondria dynamically modulate their organization and function in response to cellular signaling cues and metabolic demand. The NLRP3 inflammasome, a caspase-activating multifactor scaffolding assembly, is directly activated by mitochondrial factors and functional parameters. Mitochondria are also heavily implicated as downstream targets of inflammation in a variety of tissues. Elevated inflammation and cytokine-mediated damage to mitochondria are implicated in the pathogenesis of disparate conditions such as Type 2 diabetes and autism spectrum disorders. Recent findings indicate that mitochondrial factors are released as extracellular mediators of inflammatory response. Here, we discuss the mechanistic interaction of mitochondria in inflammatory signaling, as well as the implications for inflammatory mitochondrial damage as a causative force in highly prevalent human diseases.
Recommended Citation
Gilkerson, R., & Materon, L. (2014). Two Roads Converging: Mitochondria and Inflammatory Signaling. Journal of Clinical Immunology & Immunotherapy, 1(1), 1–7. https://doi.org/10.24966/CIIT-8844/100004
Creative Commons License


This work is licensed under a Creative Commons Attribution 4.0 International License.
Publication Title
Journal of Clinical Immunology and Immunotherapy
DOI
10.24966/CIIT-8844/100004