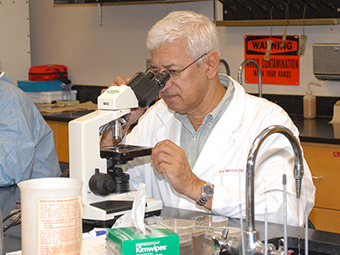 Publication Date
3-25-2021
Abstract
Mammalian mitochondria are emerging as a critical stress-responsive contributor to cellular life/death and developmental outcomes. Maintained as an organellar network distributed throughout the cell, mitochondria respond to cellular stimuli and stresses through highly sensitive structural dynamics, particularly in energetically demanding cell settings such as cardiac and muscle tissues. Fusion allows individual mitochondria to form an interconnected reticular network, while fission divides the network into a collection of vesicular organelles. Crucially, optic atrophy-1 (OPA1) directly links mitochondrial structure and bioenergetic function: when the transmembrane potential across the inner membrane (ΔΨm) is intact, long L-OPA1 isoforms carry out fusion of the mitochondrial inner membrane. When ΔΨm is lost, L-OPA1 is cleaved to short, fusion-inactive S-OPA1 isoforms by the stress-sensitive OMA1 metalloprotease, causing the mitochondrial network to collapse to a fragmented population of organelles. This proteolytic mechanism provides sensitive regulation of organellar structure/function but also engages directly with apoptotic factors as a major mechanism of mitochondrial participation in cellular stress response. Furthermore, emerging evidence suggests that this proteolytic mechanism may have critical importance for cell developmental programs, particularly in cardiac, neuronal, and stem cell settings. OMA1's role as a key mitochondrial stress-sensitive protease motivates exciting new questions regarding its mechanistic regulation and interactions, as well as its broader importance through involvement in apoptotic, stress response, and developmental pathways.
Recommended Citation
Gilkerson R, De La Torre P, St Vallier S. Mitochondrial OMA1 and OPA1 as Gatekeepers of Organellar Structure/Function and Cellular Stress Response. Front Cell Dev Biol. 2021 Mar 25;9:626117. doi: 10.3389/fcell.2021.626117. PMID: 33842456; PMCID: PMC8027119.
Creative Commons License


This work is licensed under a Creative Commons Attribution 4.0 International License.
Publication Title
Front Cell Dev Biol
DOI
10.3389/fcell.2021.626117