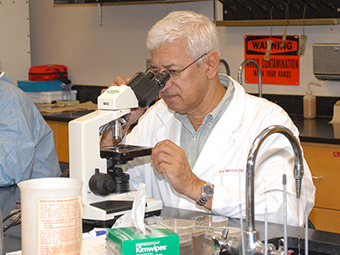 Publication Date
6-3-2021
Abstract
Vibrio cholerae is the etiologic agent of cholera, an acute and often fatal diarrheal disease that affects millions globally. We report the draft genome sequences of 13 non-O1/O139 V. cholerae strains isolated from the Rio Grande Delta in Texas. These genomes will aid future analyses of environmental serovars.
Recommended Citation
Turner, J. W., Duran-Gonzalez, J., Laughlin, D. A., Unterweger, D., Silva, D., Ermolinsky, B., Pukatzki, S., & Provenzano, D. (2021). Draft Genome Sequences of 13 Vibrio cholerae Strains from the Rio Grande Delta. Microbiology resource announcements, 10(22), e0030821. https://doi.org/10.1128/MRA.00308-21
Creative Commons License


This work is licensed under a Creative Commons Attribution 4.0 International License.
Publication Title
Microbiology resource announcements