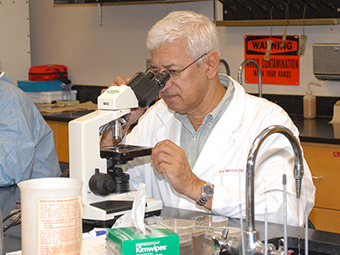 Abstract
Tephritid pests, such as the Mexican fruit fly, Anastrepha ludens (Loew), represent a major threat to fruit production worldwide. In order to control these pests, sterile insect technique is used to suppress and eradicate wild populations. For this control method to be successful, hundreds of millions of flies must be produced weekly in mass rearing facilities. The large quantity of artificial diet and close proximity of flies at various life stages allows bacteria from family Enterobacteriaceae, Bacillaceae, Pseudomonadaceae, and others to multiply and spread more easily. In this study, bacteria with a possible pathogenic effect were isolated from Mexican fruit fly eggs and dead Mexican fruit fly larvae. Two strains of bacteria associated with dead and dying larvae were identified using the 16S rRNA sequence as a species of Morganella. Further sequencing of multiple genes and the entire genomes identified both strains as Morganella morganii. Pathogenicity tests were completed to assess this bacterium as a Mexican fruit fly pathogen. Several measures of pathogenicity including effects on larval and pupal weight, adult percent emergence, and flight ability were measured for the 2 strains of Morganella compared against a control. In all cases, the presence of the Morganella strains significantly reduced all quality control measurements compared to the control. Also, at 105 colony forming units per ml or higher levels of inoculum, the presence of Morganella resulted in 100% mortality of larvae. This study illustrates that Morganella morganii is an extremely lethal pathogen of mass reared Mexican fruit flies.
-
Las moscas tefritidas como la mosca Mexicana de la fruta (Anastrepha ludens Loew), representan un peligro para la producción de la fruta a nivel mundial. Para controlar estas plagas, la técnica del insecto estéril es usada para suprimir y erradicar poblaciones naturales. Para que este método de control tenga éxito, cientos de millones de moscas deben ser producidos en plantas de crianza masiva. La gran cantidad de dieta artificial y la cercanía de moscas en diversos estadios de desarrollo permiten que las bacterias perteneciendo a la familia Entobacteriacea, Baciliiacea, Pseudomonadacea, y otros se multipliquen y diseminen rápidamente. En este estudio, bacterias con posibilidad de ser patogénicas fueron aislados de huevos y larvas muertas de la mosca Mexicana de la fruta. Dos cepas de bacteria aisladas de larvas muertas o moribundas fueron identificados usando secuencias de ARN ribosoma 16S como una especie de Morganella. Adicionalmente, la realización de secuencias de múltiples genes y el genoma entero reveló que las dos cepas de bacteria fueron identificados como Morganella morganii. Pruebas de patogenicidad fueron completadas para determinar la patogenicidad de Morganella hacia la mosca Mexicana de la fruta. Diferentes variables de patogenicidad como el efecto sobre el peso de las larvas y pupas, porcentaje de emergencia de moscas adultas y habilidad de vuelo fueron evaluadas para las cepas de dos Morganella y comparados contra el control. En todos los casos, la presencia de cepas de Morganella redujeron significativamente las medidas de control de calidad comparado con el control. También, al 105 de unidades formadoras de colonias, la presencia de Morganella resultó en una mortalidad del 100% de larvas. Este estudio ilustra que Morganella morganii es un patógeno extremadamente letal para la mosca Mexicana de la fruta.
Recommended Citation
Bacilio Salas, Hugh E. Conway, Erin L. Schuenzel, Kristen Hopperstad, Christopher Vitek, and Don C. Vacek "Morganella morganii (Enterobacteriales: Enterobacteriaceae) Is a Lethal Pathogen of Mexican Fruit Fly (Diptera: Tephritidae) Larvae," Florida Entomologist 100(4), 743-751, (1 December 2017). https://doi.org/10.1653/024.100.0422
Creative Commons License


This work is licensed under a Creative Commons Attribution 3.0 License.
Publication Title
Florida Entomologist