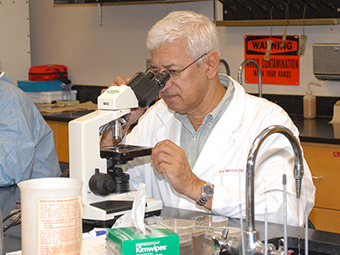 Abstract
Background: The PI3K pathway controls diverse cellular processes including growth, survival, metabolism, and apoptosis. Nuclear FOXO factors were observed in cancers that harbor constitutively active PI3K pathway output and stem signatures. FOXO1 and FOXO3 were previously published to induce stem genes such as OCT4 in embryonic stem cells. Here, we investigated FOXO-driven stem gene expression in U87MG glioblastoma cells.
Methods: PI3K-activated cancer cell lines were investigated for changes in gene expression, signal transduction, and clonogenicity under conditions with FOXO3 disruption or exogenous expression. The impact of PI3K pathway inhibition on stem gene expression was examined in a set of glioblastoma cell lines.
Results: We found that CRISPR-Cas9-mediated FOXO3 disruption in U87MG cells caused decreased OCT4 and SOX2 gene expression, STAT3 phosphorylation on tyrosine 705 and clonogenicity. FOXO3 over expression led to increased OCT4 in numerous glioblastoma cancer cell lines. Strikingly, treatment of glioblastoma cells with NVP-BEZ235 (a dual inhibitor of PI3K and mTOR), which activates FOXO factors, led to robust increases OCT4 gene expression. Direct FOXO factor recruitment to the OCT4 promoter was detected by chromatin immunoprecipitation analyses using U87MG extracts.
Discussion: We show for the first time that FOXO transcription factors promote stem gene expression glioblastoma cells. Treatment with PI3K inhibitor NVP-BEZ235 led to dramatic increases in stem genes in a set of glioblastoma cell lines.
Conclusion: Given that, PI3K inhibitors are actively investigated as targeted cancer therapies, the FOXO-mediated induction of stem genes observed in this study highlights a potential hazard to PI3K inhibition. Understanding the molecular underpinnings of stem signatures in cancer will allow refinements to therapeutic strategies. Targeting FOXO factors to reduce stem cell characteristics in concert with PI3K inhibition may prove therapeutically efficacious.
Recommended Citation
Martinez, E., Vazquez, N., Lopez, A., Fanniel, V., Sanchez, L., Marks, R., Hinojosa, L., Cuello, V., Cuevas, M., Rodriguez, A., Tomson, C., Salinas, A., Abad, M., Holguin, M., Garza, N., Arenas, A., Abraham, K., Maldonado, L., Rojas, V., Basdeo, A., … Keniry, M. (2020). The PI3K pathway impacts stem gene expression in a set of glioblastoma cell lines. Journal of cancer research and clinical oncology, 146(3), 593–604. https://doi.org/10.1007/s00432-020-03133-w
Publication Title
Journal of Cancer Research and Clinical Oncology
DOI
10.1007/s00432-020-03133-w