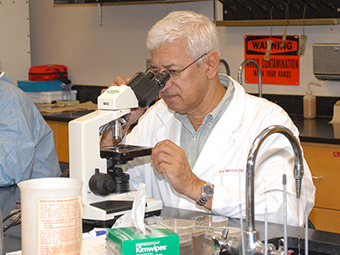 Publication Date
11-18-2015
Abstract
Objective of this study was to evaluate the effect of different controlled release fertilizer technologies on nutrient leaching and plant growth parameters of two palm species, Chinese Fan (Livistona chinensis) and Queen (Syagrus romanzoffiana). We compared Nutri-Pak (12-4-12 controlled release packet) and Harrell's (12-4-12 controlled release polymer coated urea) against Atlantic (8-4-12 controlled release polymer coated urea, coated sulfate of potash), the most commonly used palm fertilizer in South Florida. Plants were grown in 25 cm (11 L) pots under 70% shade, watered weekly, with pest and weed control done as required. Plant growth parameters: number of leaves, leaf length and width, and basal diameter, were measured every two months. Leachate was collected weekly after irrigation and a two-month composite sample was analyzed for nutrient concentrations. There was no difference in the growth parameters among the three fertilizers for Chinese Fan plants. However for Queen, Atlantic and Harrell's had significantly thicker basal diameter than Nutri-Pak. Significant difference in the concentration of nutrients in the leachate was observed among the fertilizer types. Throughout the study period, Nutri-Pak had a lower concentration of nutrients in the leachate than Atlantic and Harrell's. Our research indicates that Nutri-Pak control release fertilizer is comparable to other commercial fertilizers in Chinese Fan growth, but the larger Queen palms likely require an additional packet. Nutri-Pak fertilizer resulted in less nutrient leaching and could be a better environmental choice.
Recommended Citation
Soti, P., Fleurissaint, A., Reed, S., & Jayachandran, K. (2015). Effects of control release fertilizers on nutrient leaching, palm growth and production cost. Agriculture, 5(4), 1135-1145. https://doi.org/10.3390/agriculture5041135
Creative Commons License


This work is licensed under a Creative Commons Attribution 4.0 International License.
Publication Title
Agriculture
DOI
10.3390/agriculture5041135