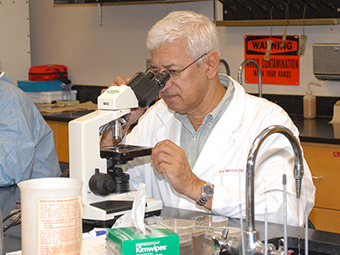 Publication Date
11-1-2003
Abstract
Recovery of halophytic vegetation on the margin of tidal flats following a wildfire at Padre Island National Seashore, Texas, was studied for 26 months. Species richness, species diversity, species importance, evenness and vegetation abundance were evaluated. Species richness and diversity were restored within 108 days after the fire. Sporobolus virginicus was the dominant species on both burned and non-burned transects. Vegetative cover was slow to recover. It took 19 months for cover of burned areas to equal or exceed cover of non-burned areas. Biomass also was slow to recover and it did not equal biomass of non-burned transects in 26 months. Species colonizing the burned transects were mostly species in nearby non-burned areas. Only one exotic species (Polypogon monspeliensis) appeared in the burned transects. The principal way that fire affected the tidal flats community was in the reduction of standing dead plants and surface litter.
Recommended Citation
LONARD, R. I., JUDD, F. W., & SMITH, E. H. (2003). Recovery of vegetation following a wild fire on the margins of tidal flats, Padre Island National Seashore, Texas. The Texas journal of science, 55(4), 347-364.
Publication Title
The Texas Journal of Science