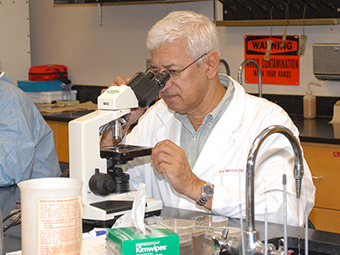 Abstract
Tropical milkweed is commonly grown to conserve pollinators, but the presence of non-caterpillar herbivores may prompt treatment. Management is limited to non-chemical methods like biological control, but potential natural enemies have not been well studied in the Lower Rio Grande Valley (LRGV). We documented the arthropod community on tropical milkweed in garden and potted settings then analyzed associations between organisms. In the garden, oleander aphids and large milkweed bugs were the primary herbivores, overlapping on seedpods. Natural enemies (lady beetles, syrphid fly larvae, and aphid parasitoids) were positively associated with oleander aphids but not milkweed bugs. The arthropod community experienced similar associations but with reduced natural enemy abundance and richness on potted plants.
Recommended Citation
Rivera, Daniela, Jose Adrian Noval, Lilly Elliott, and Hannah J. Penn. 2021. "Tropical Milkweed Herbivore and Predator Dynamics in Suburban South Texas." Subtropical Agriculture and Environments 72: 16–20.
Publication Title
Subtropical Agriculture and Environments