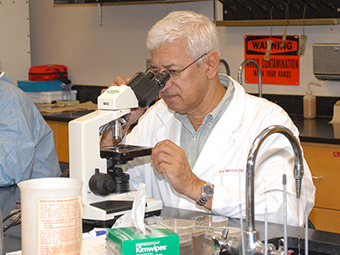 Abstract
Lasioptera donacis is a biological control agent of Arundo donax, which is an invasive weed in the riparian hab-itats of the Rio Grande Basin of Texas and Northern Mexico. Field research was conducted in the native range of L. donacis in Mediterranean Europe to evaluate the biotic and abiotic factors that influence its local infestation levels. Lasioptera donacis feeding damage was documented on 40.4 and 67.8 % of dead and decaying leaf sheaths respectively across all sites. Lasioptera donacis was active in all locations including highly disturbed sites, but showed a slight preference for sites near running freshwater sources and lower infestation levels adjacent to salt water sources. The environmental preferences of L. donacis in Europe are similar to conditions in the Rio Grande Basin and Southwestern U.S. where A. donax is invasive.
Recommended Citation
Marshall, M., Goolsby, J. A., Vacek, A. T., Mastoras, A., Kashefi, J., Chaskopoulou, A., Smith, L., Badillo, I., Reilly, Jr., F. J., Perez de Leon, A. A., & Racelis, A. (2018). Biotic and abiotic factors influencing infestation levels of the arundo leafminer, Lasioptera donacis, in its native range in Mediterranean Europe. Subtropical Agriculture and Environments, 69, 8–18.
Publication Title
Subtropical Agriculture and Environments