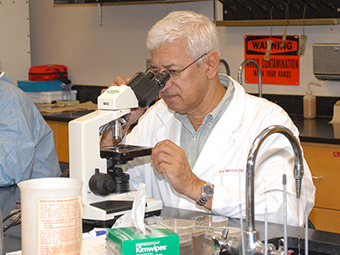 Publication Date
1-15-2015
Abstract
The success of invasive species establishment in new habitats depends, in part, on interactions with other members of the invaded community. Cipangopaludina chinensis, the Chinese mystery snail (CMS), is an exotic, invasive snail in North America. Since its introduction in the 1890s, CMS have spread to a number of watersheds across the United States and parts of Canada. This invasion has generated questions about the snail's capacity to serve as a host for parasites within local habitats, including parasites with conservation implications. To begin addressing these questions, we necropsied 147 wild-caught snails from 22 lakes across Wisconsin, finding only two CMS individuals harboring trematode (flatworm) parasites. We also conducted experimental exposures using a trematode (Sphaeridiotrema pseudoglobulus) implicated in waterfowl die-offs and found that CMS infection levels were significantly lower than those in co-occurring snail species. Furthermore, the parasites that did successfully infect CMS were often found encased in the shells of the snails in a non-viable state. Together these results 1) provide insight into the importance of CMS as a host for parasites in the region, and 2) may help to explain the wide distribution of CMS across WI and the Midwest.
Recommended Citation
Harried, Brittany, et al. "Assessing infection patterns in Chinese mystery snails from Wisconsin, USA using field and laboratory approaches." Aquatic Invasions 10.2 (2015). http://dx.doi.org/10.3391/ai.2015.10.2.05
Creative Commons License


This work is licensed under a Creative Commons Attribution 4.0 International License.
Publication Title
Aquatic Invasions
DOI
10.3391/ai.2015.10.2.05