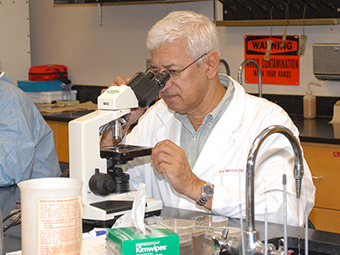 Publication Date
3-3-2023
Abstract
Climate change may influence the incidence of infectious diseases including those transmitted by ticks. Rhipicephalus sanguineus complex has a worldwide distribution and transmits Rickettsial infections that could cause high mortality rates if untreated. We assessed the potential effects of climate change on the distribution of R. sanguineus in the Americas in 2050 and 2070 using the general circulation model CanESM5 and two shared socioeconomic pathways (SSPs), SSP2-4.5 (moderate emissions) and SSP2-8.5 (high emissions). A total of 355 occurrence points of R. sanguineus and eight uncorrelated bioclimatic variables were entered into a maximum entropy algorithm (MaxEnt) to produce 50 replicates per scenario. The area under the curve (AUC) value for the consensus model (>0.90) and the partial ROC value (>1.28) indicated a high predictive capacity. The models showed that the geographic regions currently suitable for R. sanguineus will remain stable in the future, but also predicted increases in habitat suitability in the Western U.S., Venezuela, Brazil and Bolivia. Scenario 4.5 showed an increase in habitat suitability for R. sanguineus in tropical and subtropical regions in both 2050 and 2070. Habitat suitability is predicted to remain constant in moist broadleaf forests and deserts but is predicted to decrease in flooded grasslands and savannas. Using the high emissions SSP5-8.5 scenario, habitat suitability in tropical and subtropical coniferous forests and temperate grasslands, savannas, and shrublands was predicted to be constant in 2050. In 2070, however, habitat suitability was predicted to decrease in tropical and subtropical moist broadleaf forests and increase in tropical and subtropical dry broadleaf forests. Our findings suggest that the current and potential future geographic distributions can be used in evidence-based strategies in the design of control plans aimed at reducing the risk of exposure to zoonotic diseases transmitted by R. sanguineus.
Recommended Citation
Sánchez Pérez, M.; Feria Arroyo, T.P.; Venegas Barrera, C.S.; Sosa-Gutiérrez, C.; Torres, J.; Brown, K.A.; Gordillo Pérez, G. Predicting the Impact of Climate Change on the Distribution of Rhipicephalus sanguineus in the Americas. Sustainability 2023, 15, 4557. https://doi.org/10.3390/su15054557
Creative Commons License


This work is licensed under a Creative Commons Attribution 4.0 International License.
Publication Title
Sustainability
DOI
https://doi.org/10.3390/su15054557