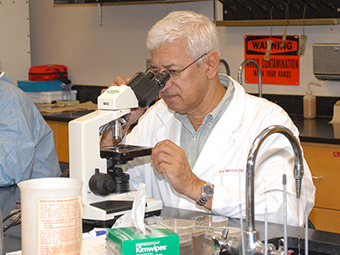 Abstract
Manipulating cover crops as an integrated pest management strategy has recently gained popularity in both traditional and organic agroecosystems. However, little information is available for producers to make informed decisions about cover crop selection, management, and their potential use as a pest management tool. To address this, we conducted a two-year, four-season field experiment on the potential of various cover crops during the summer seasons of both years, followed by monocultures of cash crops during winters. We hypothesized that the cover crop treatments would attract beneficial insects and repel damaging herbivores in a species-specific manner, and the insect community dynamics would be bridged to the cash crops in the subsequent season. In addition, we hypothesized that cash crops would suffer lower herbivory damage following specific cover crop treatments. Our design comprised of three cover crops. Our results indicate that cover crops support beneficial insects during the early summer season, while the time of growing season does not affect herbivore abundance. Crop-specific effects were found for herbivore abundance with possible cascading effects on insect community as well as damage levels on the subsequent cash crop, but without any impact on the growth traits of the cash crop. Together, our data suggest that cover crops, when carefully selected, can be an integral part of a pest management strategy for sustainable agriculture.
Recommended Citation
Martinez, L., Soti, P., Kaur, J., Racelis, A., & Kariyat, R. R. (2020). Impact of Cover Crops on Insect Community Dynamics in Organic Farming. Agriculture, 10(6), 209. https://doi.org/10.3390/agriculture10060209
Creative Commons License


This work is licensed under a Creative Commons Attribution 4.0 International License.
Publication Title
Agriculture
DOI
10.3390/agriculture10060209