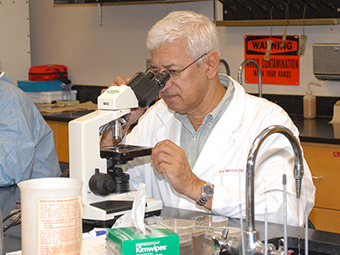 Abstract
Resacas, or oxbow lakes, form from old river channels. In the Rio Grande, resacas provide habitat for diverse wildlife, including native and non-native species. Biologists unexpectedly found pink egg masses on emergent vegetation (November 2015) and later adult apple snails (May 2016) within a resaca at a former fish hatchery in Brownsville, Texas. This report extends the non-native range of Pomacea maculata Perry, 1810 by 429 km southeast in Texas. Our findings imply that abandoned waterbodies, such as fish hatcheries, can act as unrecognized conduits for non-native invasive species.
Recommended Citation
Perez K, Schneider C, Garcia Gamboa V, Burks R (2017) Resaca supports range expansion of invasive apple snails (Pomacea maculata Perry, 1810; Caenogastropoda: Ampullariidae) to the Rio Grande Valley, Texas. Check List 13(3): 2134. https://doi.org/10.15560/13.3.2134
Creative Commons License


This work is licensed under a Creative Commons Attribution 4.0 International License.
Publication Title
Check List