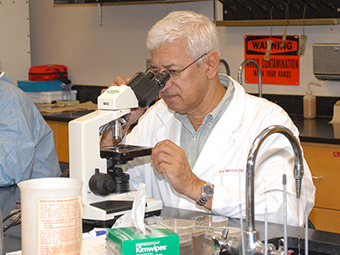 Abstract
Spectral measurements obtained in the laboratory under artificial lighting sources have been used for many years to develop spectral 'libraries' for various soil types, rocks and minerals, and other inanimate features occurring on or near the earth's surface. Quartz halogen lamps have been shown to emit all of the electromagnetic (EMR) wavelengths required for the acquisition of quality multispectral imagery, and various techniques have been developed to facilitate the acquisition of accurate spectral measurements using such artificial lighting sources. Our objectives in this study were to evaluate the several factors of critical importance in obtaining accurate spectral measurements for plant foliage in the laboratory, including the effects of leaf orientation, excision, and background reflectance on reflectance of visible and NIR wavelengths. Results demonstrated that accurate spectral measurements and imagery of various types of foliage may be obtained using quartz halogen lighting provided that excised leaf samples are placed on an NIR-absorbent background and samples are maintained in containers designed to minimize desiccation.
Recommended Citation
Gandy, Y., Mamachen, A., Mamachen, A., Lieman, J., Persans, M., Parsons, J., Ibrahim, E., Everitt, J., Little, C., & Summy, K. (2011). Techniques to Facilitate the Acquisition of Accurate Spectral Measurements and Multispectral Imagery of Plant Foliage Under Artificial Lighting Conditions. Subtropical Plant Science, 63, 45–53.
Publication Title
Subtropical Plant Science