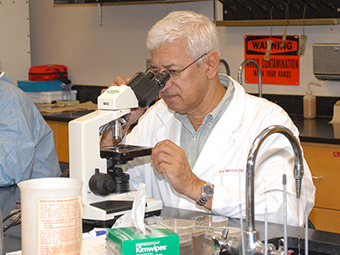 Abstract
English: Research was conducted to evaluate the spectral properties, illumination intensities and lighting patterns of four basic categories of bulbs and lamps which could conceivably serve as sole lighting sources for the acquisition of color infrared (CIR) imagery under glasshouse conditions. Bulbs and lamps in two major categories (fluorescent tubes and sodium- and mercury-vapor glasshouse lamps) were deemed unsuitable for this purpose either because they emitted little or no nearinfrared (NIR) radiation or because they imparted an overall bluish cast that seriously degraded the quality of CIR imagery. All of the incandescent and quartz halogen lamps evaluated in these studies exhibited spectral properties suitable for CIR image acquisition, i.e., they emitted relatively high levels of both visible and NIR radiation. However, most bulbs and lamps in these categories were characterized by either inadequate levels of illumination or reflectors that produced a circular lighting pattern in which luminosity varied substantially from the center portion of the image to the edges. The most suitable bulb evaluated was a heavy-duty (500W) quartz halogen lamp with a rectangular reflector which, when modified by the addition of crumpled aluminum foil to the reflector housing, produced adequate levels of illumination that was distributed in a near-uniform pattern across the target area. Color infrared imagery of plant foliage acquired using this lamp as a sole lighting source was comparable in quality to imagery of the same plant material acquired under natural lighting conditions. The performance of this particular lamp is used to exemplify the stringent requirements of any lamp under consideration as a sole lighting source for CIR image acquisition within the glasshouse environment.
Spanish: Se investigaron las propiedades espectrales, las intensidades de iluminación y los patrones de luz de cuatro tipos básicos de bulbos y lámparas que podrían servir como fuentes únicas de luz para la adquisición de imágenes infrarrojas (CIR) bajo condiciones de invernadero. No se consideraron adecuados para este propósito los bulbos y las lámparas en dos categorías importantes (tubos de fluorescencia y lámparas de invernadero de vapor de mercurio y sodio ya que o emitieron muy poca o ninguna radiación infrarroja cercana (NIR) o porque impartieron un tono azul que degradó seriamente la calidad de las imágenes CIR. Todas las lámparas incandescentes y de halógeno de cuarzo evaluadas en estos estudios exhibieron propiedades espectrales adecuadas para la adquisición de imágenes infrarrojas, por ejemplo, emitieron niveles relativamente altos de radiación visible y de radiación cercana al infrarrojo. Sin embargo, las mayoría de los bulbos y lámparas en esta categoría se caracterizaron por producir niveles inadecuados de iluminación o por producir un patrón de luz circular en el cual la luminosidad varió substancialmente de la porción central de la imagen a las orillas. El bulbo probado que resultó mas adecuado fue la lámpara de halógeno-cuarzo con un reflector rectangular el cual, cuando se modificó por la adición de papel aluminio arrugado al nicho del reflector, produjo niveles adecuados de iluminación que se distribuyeron en un patrón casi uniforme a lo largo de la área expuesta. Las imágenes infrarrojas del follaje vegetal tomadas usando esta lámpara como única fuente de luz fueron comparables en calidad a las imágenes del mismo follaje tomadas bajo condiciones de luz natural. El desempeño de esta lámpara en particular es usado para ejemplificar los estrictos requerimientos para cualquier lámpara que sea usada como única fuente de luz para la adquisición de imágenes de color infrarrojo en ambiente de invernadero.
Recommended Citation
Summy, K. R., Little, C. R., Mazariegos, R. A., Hinojosa-Kettelkamp, D. L., Carter, J., Yousef, S., & Valdez, R. (2004). Evaluation of Artificial Lighting Sources for the Acquisition of Color Infrared Imagery Under Glasshouse Conditions. Subtropical Plant Science, 56, 44–51.
Publication Title
Subtropical Plant Science