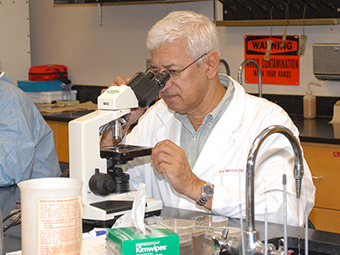 Abstract
Hispanics lag behind all other U.S. ethnic groups in education, and are especially poorly represented in science careers. Undergraduate research is an efficient method to attract undergraduate students to science, and many universities are taking advantage of this; however, much still needs to be done to fully explore its potential. In 2000, Texas A&M University-Kingsville, in collaboration with the University of Texas at Brownsville and the University of Texas Pan-American, initiated a undergraduate research internship program in citrus biotechnology to channel Hispanic undergraduate students into graduate education. To date, 51 internships have been provided, and 20 students have been channeled into graduate school, including four at the doctoral level. Most were first-generation college students.
Recommended Citation
Louzada, Eliezer S., Hilda Sonia de Rio, Allison J. Abell, Gerson Peltz, and Michael W. Persans. "Undergraduate Research: A Bridge to Graduate Education in Agricultural Biotechnology for Hispanics", HortTechnology hortte 18, 3 (2008): 516-519, https://doi.org/10.21273/HORTTECH.18.3.516
Creative Commons License


This work is licensed under a Creative Commons Attribution-NonCommercial-No Derivative Works 4.0 International License.
Publication Title
HortTechnology
DOI
10.21273/HORTTECH.18.3.516