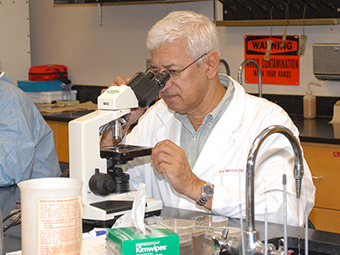 Abstract
Optic atrophy-1 (OPA1) is a dynamin-like GTPase localized to the mitochondrial inner membrane, playing key roles in inner membrane fusion and cristae maintenance. OPA1 is regulated by the mitochondrial transmembrane potential (Δψm): when Δψm is intact, long OPA1 isoforms (L-OPA1) carry out inner membrane fusion. Upon loss of Δψm, L-OPA1 isoforms are proteolytically cleaved to short (S-OPA1) isoforms by the stress-inducible OMA1 metalloprotease, causing collapse of the mitochondrial network and promoting apoptosis. Here, we show that L-OPA1 isoforms of H9c2 cardiomyoblasts are retained under loss of Δψm, despite the presence of OMA1. However, when H9c2s are differentiated to a more cardiac-like phenotype via treatment with retinoic acid (RA) in low serum media, loss of Δ ψm induces robust, and reversible, cleavage of L-OPA1 and subsequent OMA1 degradation. These findings indicate that a potent developmental switch regulates Δ ψm-sensitive OPA1 cleavage, suggesting novel developmental and regulatory mechanisms for OPA1 homeostasis.
Recommended Citation
Garcia, I., Calderon, F., la Torre, P. D., Vallier, S. St., Rodriguez, C., Agarwala, D., Keniry, M., Innis-Whitehouse, W., & Gilkerson, R. (2021). Mitochondrial OPA1 cleavage is reversibly activated by differentiation of H9c2 cardiomyoblasts. Mitochondrion, 57, 88–96. https://doi.org/10.1016/j.mito.2020.12.007
Creative Commons License


This work is licensed under a Creative Commons Attribution-NonCommercial-No Derivative Works 4.0 International License.
Publication Title
Mitochondrion
DOI
10.1016/j.mito.2020.12.007