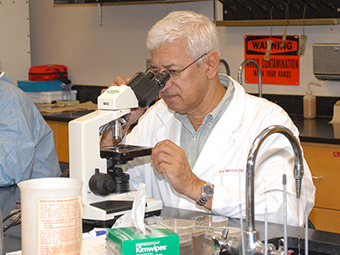 Abstract
Pleurocerid snails are important components of aquatic ecosystems and the majority of species are threatened or endangered. This study describes aspects of the life-history of Elimia comalensis, specifically population density in relationship to water velocity and depth, and seasonal change. Also examined are spatial segregation of different E. comalensis age groups and the relationship of snail size (proxy for age) to 110w, depth, and seasonal change. The study was carried out in the lotic portion of spring run 3, Coma! Springs, New Braunfels, Texas, by quadrat sampling at 10 in intervals from the spring head to Landa Lake in Fall. Winter, and Spring 2005-2006. The length of snails was strongly influenced by physical characteristics of the stream with stream depth, water velocity, and distance from the spring head accounting for--43% of the individual variability for shell length (p <0.001). A significant relationship between snail size, stream depth and water velocity was found, with spatial segregation of juvenile snails into the deepest, fastest moving water. Snail population densities did not change across sampling seasons (p = 0.285).
Recommended Citation
Perez, K. E., Minton, R. L., Reese, S. A., & Hayes, D. M. (2011). Relationship between Stream Velocity & Depth and Snail Size Distribution & Density of the Balcones Elimia, Elimia Comalensis (Pilsbry, 1890) (Gastropoda: Pleuroceridae) in Comal Springs, Texas. Texas Journal of Science, 63(3/4), 183–198.
Publication Title
Texas Journal of Science