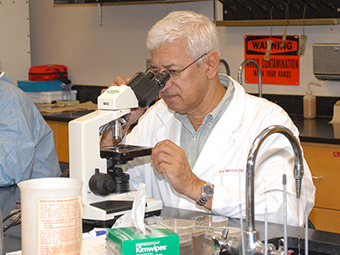 Abstract
Manganese reducing bacteria were quantified and enriched from sediments at two sites (ABC and LMT050) in the Laguna Madre of South Texas. Bacteria were tested for Mn(IV) reduction under different salinities. Denaturing gradient gel electrophoresis (DGGE) was used to profile bacterial communities from Mn(IV) saline enrichments. Results showed that the density of manganese reducing bacteria at ABC was 30X greater than LMT050. The ABC bacteria were able to reduce Mn(IV) at similar rates at different salinities; however, at LMT050, Mn(IV) reduction rates decreased at higher salinities. Three population genotypes were observed by DGGE. All were present and similarly abundant in LMT050 cultures at all salinities. In site ABC, one population was below detection at salt concentrations < 60.0 ppt but observed at higher salt concentrations. We conclude that site ABC consists of a large manganese-reducing community that alters in structure when salinity changes, whereas site LMT050 contains a smaller but somewhat more adapted community.
Recommended Citation
Elizondo, O. R., Villarreal, R. V., Del Rio, S. Y., & Lowe, K. L. (2014). Manganese-Reducing Bacterial Communities from a Hypersaline Estuary in South Texas under Conditions of Changing Salinity. Texas Journal of Science, 66(3), 53–74.
Publication Title
Texas Journal of Science