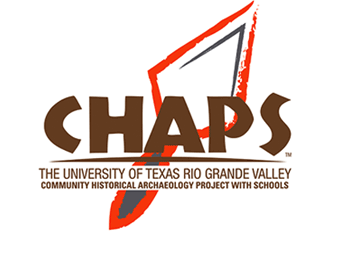 The Community Historical Archaeology Project with Schools (CHAPS) Program is a consortium of UTRGV faculty, lecturers, and staff who work locally and have embraced the teacher/scholar model in academe wherein scholarly enquiry is intertwined with K-12 education and community engagement. These are scholars who look beyond their disciplines and Colleges in order to create new knowledge that is greater than the sum of its parts.
Today it contains the scholarly disciplines of Anthropology (Russell K. Skowronek), Biology (Kenneth R. Summy), Communication (Dina B. Vera), Education (Rolando Avila), Geology (Juan Gonzalez), and History (Christopher Miller).
Our work is made possible through the efforts of our Project Director, Roseann Bacha-Garza, who is also a contributing scholar, and Lecturer for graduate and undergraduate students from anthropology, business, geology, and history.
Browse the Community Historical Archaeology Project with Schools (CHAPS) Collections:
Community Historical Archaeology Project with Schools (CHAPS) Educational Resources
Community Historical Archaeology Project with Schools (CHAPS) Oral Histories
Community Historical Archaeology Project with Schools (CHAPS) Publications
Community Historical Archaeology Project with Schools (CHAPS) Recordings