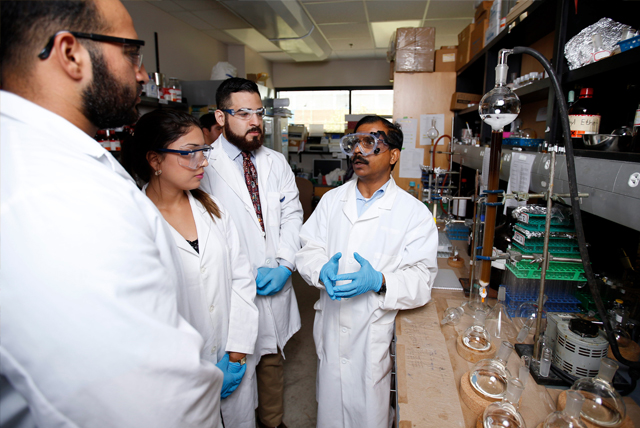 Abstract
Identifying methods to modulate the reactivity of metal-hydrides are lacking yet highly desirable given the role they play in a plethora of catalytic applications. Herein we report novel methodology to amplify reactivity of metal hydrides through the design of well-defined heterometallic bridged hydride species. Catalytic hydroboration of quinolines was dramatically altered by the addition of a secondary metal to bridge the Al-hydride species LAlH. Specifically, the addition of Ni(COD)2 led to the formation of novel heterotrimetallic species 1 which features Ni participating in 3-center- bonding with sterically accessible Al-H species and exhibits catalytic hydroboration of sterically encumbered quinolines and approximately a 400 times enhancement in catalytic reactivity in comparison to LAlH.
Recommended Citation
De Leon E, Gonzalez F, Bauskar P, Gonzalez-Eymard S, De Los Santos D, Shoshani M. Amplifying Reactivity of Metal Hydrides: A Heterotrimetallic NiAl2(μ2-H)2 Catalyst for the Facile Dearomatization of N-Heterocycles. ChemRxiv. Cambridge: Cambridge Open Engage; 2022; This content is a preprint and has not been peer-reviewed.
Creative Commons License


This work is licensed under a Creative Commons Attribution-NonCommercial-No Derivative Works 4.0 International License.